Falklands voice dismay and praise for second commercial flight
Friday, November 30th 2018 - 05:52 UTC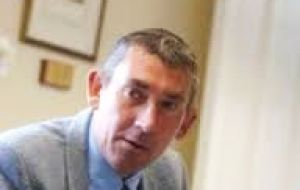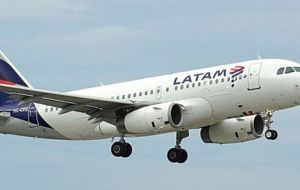 The proposed second airline service between the Falklands and South America with a once a month stopover in Argentina, drew both strongly voiced concerns and praise at a public meeting held on Wednesday evening in Stanley. Worried citizens suggested Argentina might manipulate Islanders by threatening to interrupt the link to Sao Paulo, Brazil in the longer term.
Responding Members of Legislative Assembly reminded the large audience that even during the most difficult years of the Kirchner rule in Argentina, since the 1999 Agreement that country had never touched the airlink.
Member of Legislative Assembly Roger Spink said: "I think everybody is concerned always when you have something that goes via Argentina that it is a tap that they may choose to turn off or on, but that's why you have these agreements."
MLAs also told those present that they too held the power to terminate the airlink "if things went wrong."
MLA Ian Hansen opened the meeting by laying out the process so far, which has resulted in the proposed new airlink with Sao Paulo with a monthly stop in Cordoba, Argentina.
Falkland Islands Development Corporation Manager Martin Slater also gave a presentation. He and the FIG Chief Executive Barry Rowland have led the project for a number of years. Mr. Slater explained that the recent proposal for an additional airlink announced this week by FIG had been long planned for and "explicitly provided for in the 1999 Agreement," and, "articulated within the last three Island Plans… It formed part of the Joint Communiqué agreed during the last Assembly, it is in the Economic Development Strategy which was recently reviewed and adopted, and it is in every Business Climate Survey we run every other year."
He said in the last Business Climate Survey it was "the top barrier to growth. So as far as FIDC is concerned and my colleagues within the government this is an absolute priority for economic grown within the Falkland Islands." He went on to explain the parameters within which they had to work and negotiate which included the Joint Communiqué of 2016 wording, which noted that further airlinks between the Falklands and third countries would have to include "two additional stops per month in Argentina, one in each direction."
He made it clear that stop would work in exactly the way it does in Rio Gallegos "the plane lands on the runway, those that are getting off get off and those that are getting on get on and then it takes off. There is no customs checks or anything else."
He also outlined the criteria provided to 16 eligible airlines (during the tender process in March) by FIG's consultants March Aviation Economics, which included that the service should provide enhanced connectivity and the new service and current service
should complement each other if possible. Also the aircraft should ideally carry cargo as well as passengers.
In speaking about these points he emphasised that it was impressed on the companies the flight was "additional," and not to replace the Santiago service.
Ultimately Latam was chosen and detailed talks followed. He outlined Latam's proposal as follows:
- A wide body aircraft flying to and from the Falkland Islands every Wednesday
- Providing three direct nonstop flights a month from MountPleasant to Sao Paulo
- Three direct non-stop flights from Sao Paulo to Mount Pleasant and
- One north bound and one southbound indirect flight between Sao Paulo and Mount
Pleasant with an in transit stop in Cordoba
Details were that Latam will offer direct connections to sevenmajor EU destinations and four in the US. More than 49 destinations with Latam and connections with partners to 87 destinations in the EU, 24 in the UK and over 200 in the US.
"If we get the timings right you'll be able to fly from here land in Sao Paulo early evening, two hours later on the plane and on your way to Heathrow. Take off lunchtime Mount Pleasant and and lunchtime the following day at Heathrow – that's the aim and aspiration."
He noted the flexibility that combining with the current flight gives which will mean stays for tourists in the Falklands of 3, 4 and 7 days. There will also be through ticketing – so you wouldn't have to pick up your baggage in Sao Paulo if you were going to UK for example.
There will be a large number of seats, 200 available for passenger transport including business class travel and up to 12 tons of freight space including provision for perishable cargo.
He stated that Latam told them,"90% of the revenue from this new route will come from not people flying from here to Sao Paulo it will come from people flying on from Sao Paulo to Heathrow, Madrid, Miami wherever they might want go… It will be those
seats that will enable them to provide us with an affordable service to and from the Falkland Islands. It's why they are committing to a large airframe and why they are committing to a 52-week service - so that is an important service."
Mr Slater explained that Cordoba was chosen because it was a reasonable sized city, "…it is possible to fly from Cordoba to other parts of the world, certainly good connectivity within South America…"
He also made these points on pricing
- There is a large airframe to fill o clearly the airline will be looking for volume;
- Prices will therefore be market- led and competitively priced
- Whenever additional capacity and choice is added to a market, prices go down.
As part of FIG's contractual arrangements with Latam they will ensure that there is an agreement in place regarding fares said Mr. Slater.
Mr. Slater said on fares "We've had indicative pricings as part of the proposal from Latam we've clearly got to negotiate those prices as part of the contract. We don't want to hamper those negotiations by making public statements about what the airfares will be..." "…but they will be much more affordable for the reasons I've set out in my presentation there will be more capacity on both routes…we will make sure the fares are affordable and if they are not affordable the whole thing is unsustainable."
The next steps involve a final decision by Executive Council, then finalise the details of contract negotiations with Latam. This would be followed by work to put the necessary technical operational approvals in place and then organise an inaugural flight. He said it was anticipated a full service would be in place well before the start of the next tourist season.
Questions
Around an hour of questions followed.
When it was asked "why not Rio Gallegos as is used on the Santiago link," it was explained that the criteria given by the Joint Communiqué was "good connectivity"
of which Rio Gallegos had very little.
Asked who would pay for passengers in the case of rotary wind delays it was explained that, as now, Latam would pay.
Chief Executive Barry Rowland said "There is nobody more familiar with the flying conditions with these Islands than Latam and Latam has operated the Saturday flight for 19 years now and the rotary winds haven't put them off, even the increase in rotary winds we've seen in the last two years.
We've spoken about this with Latam, we've had discussions with Latam about the improvements we hope to make and the ability to manage more dynamically the rotary wind issue. That's subject to a decision in the next few weeks probably in terms of further investment at MPN to give us the equipment to be able do that, but they are not put off by this, they still think it is a great opportunity…"
It was asked if there was an agreement in place regarding fares. Mr Rowland said there was no contractual arrangement at this point – the intention would be to put in place an agreement that would cover fares.
The panel was asked why the FIG press release did not include a paragraph that made reference to bilateral and not trilateral air service discussion.
MLA Elsby said "the reason is we are in the real world, Argentina doesn't recognise the Falkland Islands. We have lead on this process… even though Argentina does not recognise us and everything has to be filtered through the UK. But these annual discussions are just that – discussions – looking at future opportunities – it doesn't mean looking to see whether we will stop the flight or not…"
Mr. Rowland commented "As far as the negotiations are concerned about flights I guarantee you that we have been leading those discussions; we have been accompanied by UK officials alongside us, but those discussions have been led by me, supported by Martin – very direct and quite challenging discussions. Any conversations about the future of air services (and that's a good thing to have) have to be a positive thing. And they recognise that the folks that know what we need here are us and not the UK government. The UK government has to be alongside us because those are the two sovereign organizations."
It was also confirmed that the talks took place under the UK/ Mercosur Air Service Agreement and that was one of the reasons discussions included the UK.
Asked if FIG had the right at any point to cease the operation if it wishes, if things were not going as it should be, it was confirmed that there would be a four-year contract to give the opportunity for the flight to settle in but it would be built in that FIG could give 12 months' notice to terminate that arrangement. The contract will be direct with Latam with no other organizations involved.
They could not specify the aircraft to be used as they had been asked not to but gave a 767 as an example of a wide bodied aircraft.
Why through Argentina asked one person? MLA Elsby said the Joint Communiqué specified this "but the reality is it passes through Argentine airspace; we have to liaise with the authoritarian Brazil and there and the UK but also the ones in Argentina so it is the reality of how we have to progress it."
They didn't abide by the 99 agreement so how can we trust them in the future it was asked?
MLA Roger Spink said "If you look at the history 30 years ago we didn't have any sea links we didn't have any airlinks to South America and now we have regular sealinks and regular flights and this is just another step forward in that. We are making progress gradually and every now and then we take a step backwards but we are making progress."
Responding to concerns about the Santiago service collapsing or even seats being withdrawn from the MoD flight Mr. Slater said: "Latam is very, very keen to keep the Santiago service; a big part of this process is about making sure that continues to operate. I have been at this for five years now and the fundamental was an additional link, not a replacement but an additional link. We have looked at this in some detail and think it works commercially… Regarding the MoD flight he said he had spoken with the MoD and even if there were no civilian passengers they would still run that aircraft twice a week.
Mr. Rowland said there was to be no change to the amount of seats available to civilians on the MoD flight. He noted that the contract with Latam for a second flight would bind them to the first flight.
MLA Roger Spink said: I think everybody is concerned always when you have something that goes via Argentina that it is a tap that they may choose to turn off or on but that's why you have these agreements." He said "to date with the LanChile route into Chile they haven't gone back on the agreement there even when they were trying to be awkward with us so therefore you've got to go into it with good faith and believe that they will stick by the agreement they signed up to."
MLA Roger Edwards said "Stuff-all remains of the 99 agreement other than the Lan- Chile flight and even at the worst of Cristina Kirchner they never stopped that flight."
One individual noted however that they would not have stopped the first flight because it would remove Argentine access to the Falklands, and this would not stand for a second flight.
Asked why there had been secrecy surrounding the announcement from FIG MLA Hansen point out that "we the Falkland Islands government kept our side of the bargain that everything would be released on the same day – it was the Argentine government that leaked it not us."
Two people made complimentary remarks about the work done and another indicated that just because some people were loud in their opinions it did not mean they were the opinions of all. (Penguin News).