Theresa May in Buenos Aires: good and bad news, Falklands and the Brexit deal
Friday, November 30th 2018 - 06:19 UTC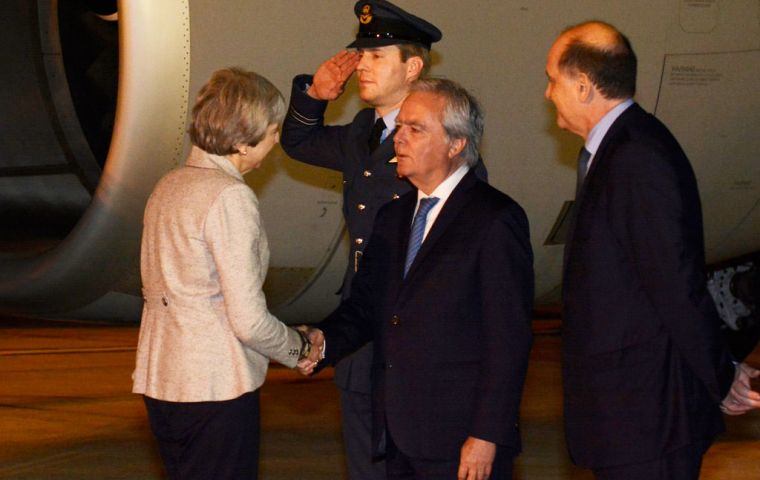 A few minutes before midnight Friday, Buenos Aires time, a Royal Air Force transport with Prime Minister Theresa May landed at Ezeiza airport. Mrs May is the first serving UK prime minister to visit the capital Buenos Aires, and the second to travel to Argentina, after Tony Blair in 2001.
The Prime Minister was received by the Argentine Senate acting president, Federico Pinedo and several ministers, plus UK ambassador Mark Kent. Before leaving London Mrs. May said how pleased she was to be the first UK PM to visit Buenos Aires, where she is attending the two-day G20 summit and besides the official agenda is scheduled to hold bilateral talks with several world leaders.
Buenos Aires will offer the Prime minister a brief relief from the ongoing battle over Brexit and the recent withdrawal agreement reached with the European Union but which must still be approved by Parliament and faces opposition from Labour and some 90 members of her own party. A vote is scheduled for 11 December.
Despite turmoil, Mrs. May is scheduled to sign an accord with President Mauricio Macri for a second commercial flight between the Falkland Islands and the region, a formidable milestone in the recent constructive approach to UK/Argentina relations including controversial issues, such as the South Atlantic Islands sovereignty dispute, but which has not impeded to advance on other issues.
The Falklands improved connectivity is part of the UK/Argentina September 2016 communiqué on which the current reconciliation spirit is progressing and has allowed the humanitarian task of identifying remains of Argentine combatants buried in the Falklands in unnamed graves. A pending issue for at least 122 families since the end of the conflict in 1982. Cooperation in the South Atlantic fisheries conservation could soon be another field of shared responsibility.
But Mrs. May main focus will be on the Brexit deal negotiated with the EU, highlighting its benefits and lobbying for support from G20. She is expected to tell world leaders: "International firms that have invested in UK production or use European bases to supply the UK market will benefit from these arrangements."
However "for the first time in more than four decades, the UK will have an independent trade policy", and "we will play a full and active role on trade on the global stage, working with friends new and old, at a time of unprecedented global inter-connectedness."