British PM May appoints Mark Menzies MP as Trade Envoy to Argentina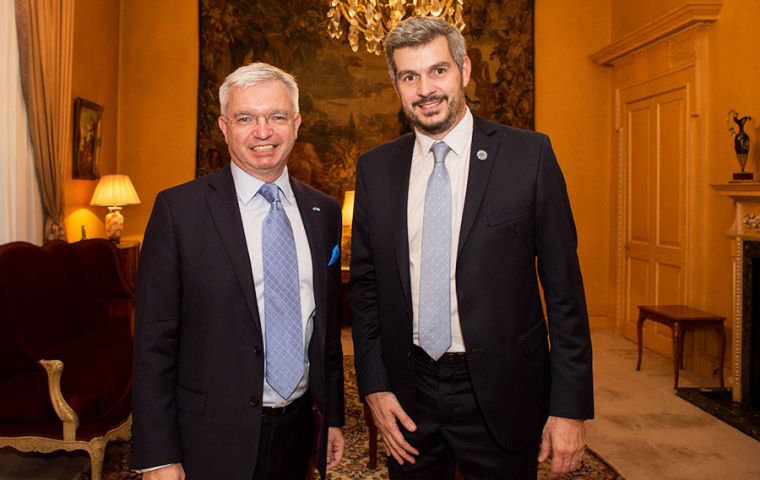 Prime Minister Theresa May has appointed Mark Menzies MP as the Prime Minister's Trade Envoy to Argentina. The announcement was made on Monday by the Secretary of State for International Trade Liam Fox, in a message to both Houses of Parliament.
The program of Trade Envoys was created in 2012 and already has a network of 32 members of parliament chosen by the Prime Minister to cover some 64 markets. From their posts in the UK, the Trade Envoys work to develop trade with those emerging markets in which investment opportunities have been identified.
It is a voluntary ad honorem program which integrates in the network of Trade Envoys parliamentarians from across the political spectrum to support UK trade and investment objectives in global markets.
Mark Menzies has been an MP since 2010 representing Fylde in Lancanshire. He heads the cross-party British/Argentine parliamentarian group and is a member of the Finance and International Development Committees. Mark's current portfolio as Trade Envoy includes Chile, Colombia and Peru.
During the bilateral meeting held in Buenos Aires last Friday in the framework of the G20 Leaders' summit, PM Theresa May and president Mauricio Macri, talked about ways in which the UK and Argentina could boost bilateral trade and investment, and welcomed the naming of the first Trade Envoy to Argentina. .
The UK/Argentina goods and services trade balance totals some 1.500 million pounds, according to 2017 stats. Latest data shows Argentina exports in the range of 900 million pounds and UK's sales amount to some 600 million pounds.
The main UK exports to Argentina include produce from the following industries: pharmaceutical, energy, chemical, metals, lab materials, beverages, vehicles and plastics. Argentina sales to UK include grains, primary products, animal food and wines.