Maduro off to Moscow in search of Putin's help
Tuesday, December 4th 2018 - 10:44 UTC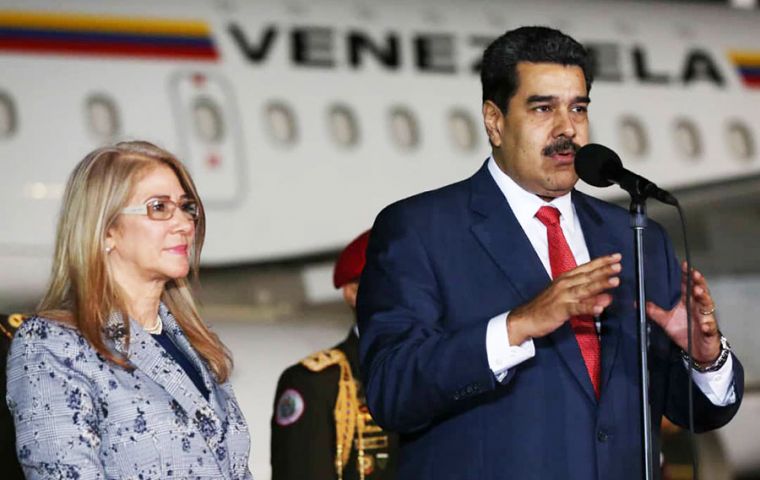 After meeting in Caracas with Turkey's President Recep Tayyip Erdogan, Venezuelan leader Nicolás Maduro took off for Moscow, where he hopes to hold some "serious talks" with his Russian counterpart Vladimir Putin in order to "strengthen and expand diplomatic relations and friendly ties between the brotherly nations."
"Tomorrow I will have a very serious and important meeting with Russian President Vladimir Putin," Maduro said in a video message he posted on Twitter.
Analysts agree Maduro's trip is a diplomatic offensive in the face of strong international pressure against him.
"With President Vladimir Putin we are in permanent contact and we have scheduled (one) meeting (...). I am going to Moscow to close the year 2018 with a flourish in terms of the strategic relations that Venezuela is building with the world," Maduro said.
After being re-elected in not quite transparent elections which the United States, the European Union and other countries refuse to take for valid, Maduro is visibly trying to gain support from his allies.
There is also a mounting international consensus to bring the Venezuelan ruler before the International Court of Justice in The Hague to account for his alleged human rights violations.
Meanwhile, the United States applies sanctions to Caracas since 2014, claiming that Maduro's government is a "dictatorship" that violates human rights, without having ruled out military intervention outright. US President Dinald Trump has repeatedly admitted "all options are on the table."
Among the US sanctions is a ban on US citizens and companies from negotiating new debt with Venezuela and its oil company PDVSA, which closes the doors to international financing and hinders foreign trade.
In previous days, Maduro received visits from Iran's foreign minister, Hojattolah Soltani, and the president of the Supreme Assembly of North Korea, Kim Yong Nam.
The crisis forced some 2.3 million Venezuelans to emigrate since 2015, which according to the UN is the most massive population movement in recent Latin American history.
Maduro's s most recent visit to Russia was in October 2017.