Current, former Argentine Defense Ministers exchange accusations in Congress over ARA San Juan
Wednesday, December 5th 2018 - 09:40 UTC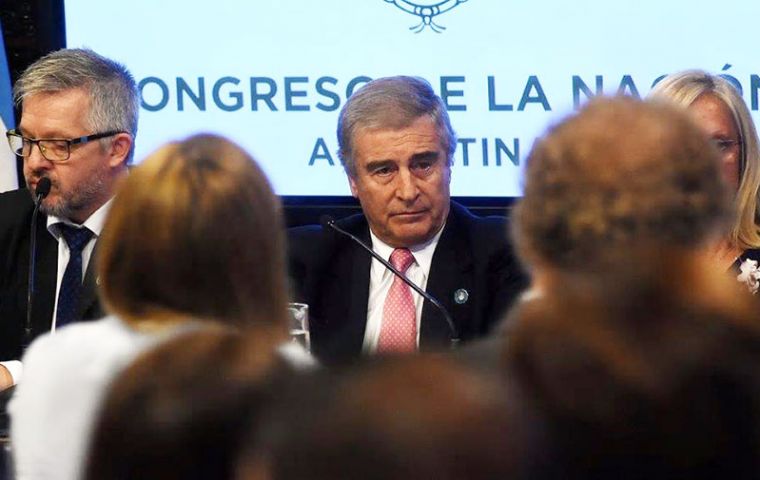 Argentine Defense Minister Oscar Aguad Tuesday said the causes of the ARA San Juan submarine's fate are closer to become known, but he pointed a finger at faulty maintenance between 2008 and 2015 under President Cristina Fernandez de Kirchner (CFK).
Aguad appeared Tuesday before a Congressional bicameral commission during which he was particularly pounded by Victory Front (FPV) Deputy Nilda Garre, who was herself defense minister under CFK at the time the allegedly deadly repairs were made.
Garré accused Aguad of lack of neutrality in supporting this theory about the accident, which in her opinion is backed by no evidence.
Aguad asked for the meeting to be held privately because he was to expose before the Commission the possible causes of the ARA San Juan's wreck "and those causes bring on responsibilities."
But his request was denied and the meeting went on with the presence of relatives of the deceased sailors of the submarine.
Aguad insisted the evidence has been delivered to the judge investigating the case of the Argentine Navy's ARA San Juan submarine that was last heard of on November 15, 2017 and which was found at the bottom of the sea one year and one day later with 44 crewmembers onboard.
Garré defended herself by saying it "was a wise decision do it [maintenance] in our yards" and argued the state in which the submarie's hull was found 900 metres under the ocean was a proof of that.
"Whether or not there were [cases of] corruption in Navy purchases during my tenure, they were not related [to the ARA San Juan]," Garré replied.
Aguad claimed that "in this country there are those who hate the truth because the truth unmasks" the reality of things" and "I am lucky to be a part of an executive branch where the truth comes furst and foremost."