Falklands' connection of the Duke and Duchess of Cambridge pet dog Lupo
Thursday, December 6th 2018 - 09:30 UTC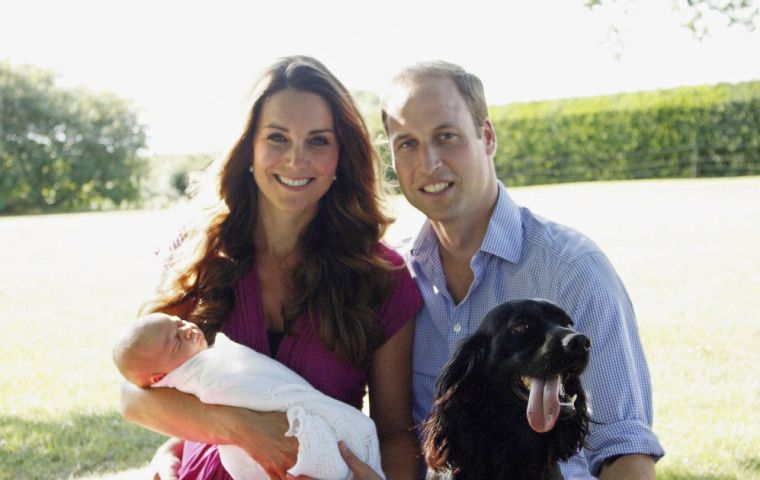 The Duke and Duchess of Cambridge adore their pet dog, Lupo, and see him as a true member of their family – and now, the story behind how they got their beloved spaniel has come to light. After the royal couple held a Christmas party for RAF families at Kensington Palace, one of the guests spoke of her conversations with William and Kate – revealing that the pair had decided to get the dog to help Kate cope while William was away in the Falklands Islands.
She said: "When Prince William was away in the Falkland Islands he went for dinner with some good friends of ours in the Air Force and he was saying how difficult it was for Kate because he was leaving for six weeks. It was when they'd just got the spaniel to help her with the time apart. She appreciates what wives and families go through."
During a speech at the event, Kate spoke of how she sympathizes with families missing their loved ones this Christmas, describing her own experiences, too. "As someone whose husband has served, I know how hard it feels when a loved one leaves home to do the job they've trained for. When William served in the Falklands or went on search and rescue, I remember how it felt. But I can't imagine how it feels when your loved ones are away on active service over Christmas or at those special family moments," she said.
William and Kate got Lupo, an English Cocker Spaniel, in early 2012 – the puppy was born to a litter from Ella, Kate's family dog owned by her parents Michael and Carole Middleton. The couple have been seen on a number of occasions with their trusty companion. Lupo has also starred in the palace's first official pictures of William and Kate with a baby Prince George, snapped by Michael Middleton.
On George's third birthday, the royals released four cute photos of the chubby-cheeked prince standing on a swing, walking in the garden and playing with the family pet.