Famous Afghan Messi fan displaced by war, fears for his life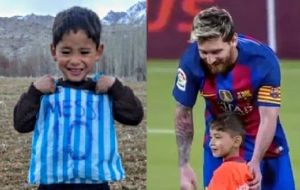 Murtaza Ahmadi, whose picture in 2016 donning a plastic home made Argentine national football jersey pretending to be that of Lionel Messi went viral leading the actual Barcelona FC star to meet him personally and give him a real shirt, is now one of thousands of Afghans displaced by war, as his family has left their home in southeastern Ghazni fleeing a Taliban large-scale offensive.
The family belongs to the Shiite-denominated Hazara ethnic group, who were targeted by the Sunni Taliban in their November operation in Ghazni. Murtaza's fame makes him a particular target for the Taliban, who are reportedly searching for him by his name.
Sports were rarely tolerated under the 1996-2001 Taliban régime, and the Kabul football stadium was a well-known venue for stonings and executions. "If they capture him, they will cut him into pieces," Murtaza's mother Shafiqa told the Agence France Presse (AFP). She added she hid her famous son's face with a scarf to prevent him from being recognised.
In 2016, Murtaza met Messi in Qatar, where he walked out onto the pitch clutching Messi's hand as a mascot for a Barcelona friendly. Messi, a UNICEF goodwill ambassador, also gave his tiny fan an autographed shirt.
But times have changed. According to the United Nations, up to 4,000 families have fled the area in absolute terror, AFP has reported.
Although Afghan security forces have beaten back the Taliban in Jaghori, the risk of the Taliban returning is high, so "going back is not an option," Shafiqa said. She added she had received calls saying "You have become rich, pay the money you have received from Messi or we will take your son."
Shafiqa also explained that "at night we would sometimes see unknown men, watching and checking our house, and then the calls. During the days, we wouldn't dare let him outside home to play with other children."
The family have already fled once before, to Pakistan in 2016, but returned reluctantly to Jaghori after their money ran out. Murtaza's father Arif stayed in Jaghori working as a farmer.
More than 300,000 Afghans have fled their homes due to violence since the beginning of this year alone, according to the UN's agency for humanitarian affairs.
Little Murtaza, meanwhile, told AFP he misses his football and his jersey from Messi. "I want them back so I can play," he said. "I miss Messi," he added.