Chilean President Piñera pulls Jungle Commando out of Araucania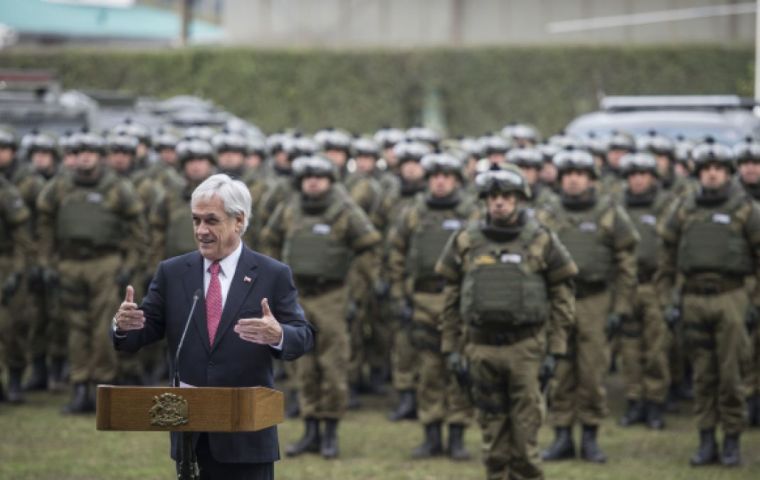 Chile's President Sebastián Piñera Saturday announced the Carabineros' élite GOPE squad, commonly referred to as "Jungle Commando," will be withdrawn from the Araucania region, but warned that security in the area will be reinforced nonetheless.
According to Piñera, "we are going to reinforce La Araucanía's plan in its four pillars, dialogues and agreements, socio-economic development, revaluation and recognition of indigenous peoples and security."
He added that "we will withdraw the GOPE but we will strengthen the Special Forces in La Araucanía," as he drew the attention to the fact that "they are forces that are found in all regions of the country and are especially necessary for La Araucanía".
The proposal put forward by Carabineros, contemplates the exit of the red zone of the Task Force Special Group of Carabineros (GOPE), commonly known as Jungle Commando.
The measure came after strong criticism over the death of Camilo Catrillanca, who on November 14 was shot by members of the Gope.
Task forces will also undergo training with Carabineros' Human Rights Department, a branch which reports directly to General Director Hermes Soto Isla, it was announced.
The decision was praised by Chile's National Human Rights Institute (INDH) as an "excellent signal, which goes in the right direction."
INDH Director Consuelo Contreras said that "for a long time we had insisted on the relevance of the gestures in La Araucanía and we had asked that the agricultural high school of Pailahueque be again what it was, not a police station."
She added that "last week we suggested to the general director (Hermes Soto Isla) the idea to create a [human rights] office in the region, because there you have to have greater observance of what is happening, and he agreed."
The INDH will also have a presence in the region, since in the coming weeks officials will travel from Santiago to La Araucanía to carry out training courses for personnel working in Ercilla.
"We are going to train Carabineros in human rights in the coming weeks. INDH officials are going to travel to the region. What we expect is that with this and other interventions [we can] begin to rebuild trust," said Contreras.
Although the GOPE is to leave the red zone of the conflict, they will be relocated in the region, while in Ercilla Carabineros' Special Forces will remain.
These projects are all older than the Catrillanca case, which undoubtedly sped things up.