Bolsonaro prepares to take office with 75% support: "he's on the right track"
Friday, December 14th 2018 - 09:40 UTC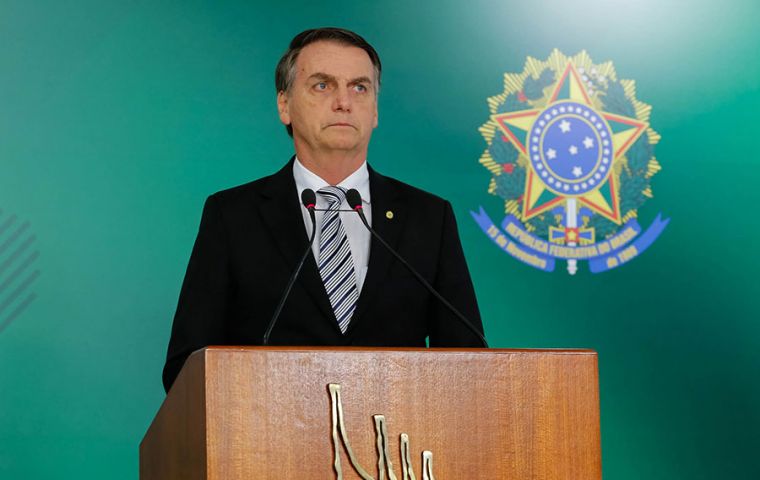 A vast majority of Brazilians, 75%, are convinced that president-elect Jair Bolsonaro is "on the right track", and over 50% are confident of his economic plan or promises. Likewise 64% believe that 2019 is going to be a "very good year", while "average" for 18% and "terribly bad" for 14%.
These are the results of an Ibope public opinion survey, done between 30 November and 2 December involving 2,000 interviews. However this was before some "atypical financial movements" involving Bolsonaro's wife, Michelle, and one of his sons, Flavio elected federal deputy, surfaced.
But history also points out that something similar happened with three previous Brazilian president a week before taking office on January first. In effect, Fernando Color de Mello also triggered great enthusiasm and had a 71% credibility support before taking office. This also happened with Fernando Henrique Cardoso, who garnered 70% and Lula da Silva who took office with 76% confidence.
And history also indicates that three months later, Collor's backing plummeted to 36%; Cardoso dropped to 39% and Lula in his first month rapidly slid to 56%.

Nevertheless in the intricate Brazilian political system, with some thirty political parties represented in Congress, the cabinet had 29 ministries, but Bolsonaro cut the number to 22, including seven military officers. But according to the Ibope poll, 77% believe the composition of the coming cabinet is "very adequate".
The Ibope poll also showed that despite Bolsonaro winning the run off with less than 60% of the ballot, confidence expectations have extended to those who did not support him: this is particularly significant in the south and southeast, but much less in the northeast which is ex president Lula's electoral turf.
Similarly confidence in Bolsonaro's administration seems more a question of empathy that in knowledge of his proposals, since 40% could not recall a single initiative. Among those aware the pensions' reform stands up, but public security stands out given the promise that purchasing and carrying guns will be made easier and less cumbersome. In effect 43% of interviews mentioned public security and the guns' issue, ahead of combating corruption, 37% or solving unemployment, 36%.
Regarding those areas where the Bolsonaro administration could be less successful, the poll pointed out, cost of living, jobs, housing and public health.