Paraguayan judge refuses to halt Uber and clone company MUV - battle with taxis continues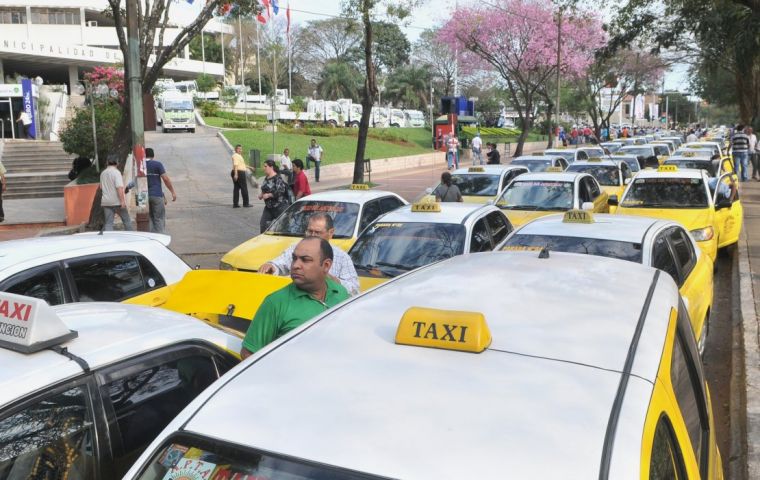 Judge Letizia Paredes Friday denied the request submitted by Paraguayan taxi driver unions to keep carpool services Uber and MUV from operating but she still allowed the petition for an amparo remedy to be processed by the courts, it was reported.
The National Federation of Taxi Drivers and the Association of Taxi Professionals of Asunción (APTA) submitted an appeal for protection against MUV and Uber, claiming that both applications were illegal and generate unfair competition to the regular taxi service they offer.
The multinational Uber launched its presence in Paraguay on Wednesday and started taking applications from would-be drivers by Thursday.
MUV, which is already operational with several drivers and registered customers enjoying both the new service and the labor opportunity, is a Paraguayan company based on the same principles as Uber.
A heated discussion was recorded outside the courthouse where hundreds of taxi driver union members attacked the media trying to cover the nationwide move dubbed "the yellow swarm."
The unions are determined to fight Uber and MUV and although they had announced they would not block the streets of Asunción, car owners driving into town Friday reported things were not that easy.
In a countermove to win over new customers, MUV offered free rides between 6 and 9 AM Friday. MUV founder Ximena Duré explained all registered MUV users had been notified at their cell phones. And while passengers were not charged a cent, MUV drivers still earned 100% of their fare directly from the company.
"The idea is to break through a bit by doing what is called creative destruction in the world of innovation and try to counteract a situation that is a bit uncomfortable for many citizens with a possibility of positive action," Duré explained.
She added her platform is fully legal and covered by Article 45 of the National Constitution.