Peru receives 395,000 applications from Venezuelan citizens to stay, work and study
Tuesday, December 18th 2018 - 13:03 UTC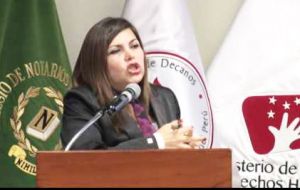 Around 395,000 Venezuelans have applied for a Temporary Stay Permit (PTP) in Peru, National Migration Superintendent Roxana del Aguila announced Monday.
The PTP, created by Peru's current government, allows foreigners to work, study and to have access to health and financial services in a legal manner.
Del Aguila said some 558,000 Venezuelans had entered Peru by the October 31 deadline to be eligible for a PTP. Due to the number of applications being processed, immigration authorities have opened two new offices in Lima, it was reported.
Del Aguila also pointed out that 1,370 foreigners have taken up Peruvian citizenship since 2016, of which 70% qualified for it through marriage, 25% were born abroad to Peruvian parents and only 4% had been granted naturalisation.
Most of the 1,370 new Peruvians stemmed from Venezuela, Colombia, Spain, Cuba, the United States and Argentina.