Pompeo will lead US delegation to Brazilian president Bolsonaro's inauguration
Tuesday, December 18th 2018 - 07:04 UTC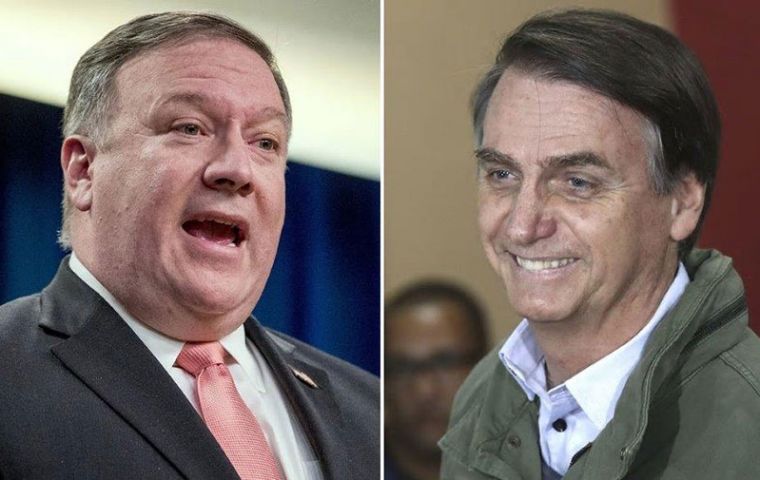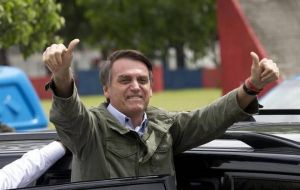 United States Secretary of State Mike Pompeo will lead a delegation to the January first presidential inauguration of Brazil's Jair Bolsonaro, president Donald Trump announced on Monday.
Bolsonaro has been described by some as the "Trump of the Tropics" for his nationalist views. After Bolsonaro met with White House national security adviser John Bolton last month, Bolton called the right-wing populist a "like minded partner.
The delegation will consist of "Mark Green, administrator of U.S. Agency for International Development (USAID); William Popp, the interim chief of the U.S. embassy in Brazil; and Mauricio Claver-Carone, the senior director for Western hemisphere affairs on the National Security Council, according to the White House announcement.
Top White House officials, including Trump, have met Bolsonaro's victory with enthusiasm. During a congratulatory call to Bolsonaro after his victory in October, Trump said the U.S. is looking forward to working with Bolsonaro's administration "side-by-side" as "regional leaders of the Americas."
Pompeo after the election, in which Bolsonaro won 55% of the vote, called the new Brazilian president to discuss future "cooperation".
Bolsonaro, a longtime Brazilian congressman, has been fiercely criticized for his rhetoric that opponents and activists have called racist, sexist and anti-LGBTQ. He has faced multiple fines and charges for statements targeting black, gay and indigenous Brazilians.
A movement of mainly women called "Ele Não," or "not him," rose up to oppose Bolsonaro in Brazil over the past year, drawing parallels to the U.S.'s "Me Too" movement which has largely opposed Trump. However it did little to impede the sweeping victory of Bolsonaro.