Ex FARC still active guerrilla leader Guacho shot dead by Colombian forces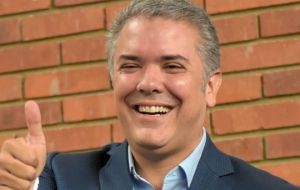 Walter Patricio Arizala, a.k.a. "Guacho," the FARC dissident behind the kidnapping and murder of three journalists from Quito's El Comercio newspaper, died Friday during an operation of the Colombian security forces in the jungle of Llorente, in the Tumaco municipality of the south-western department of Nariño, near the border with Ecuador, President Iván Duque announced.
"He has been killed by the heroes of Colombia," the president said in a statement he gave in Medellin. "I told the Ecuadorian people that the crime of the three journalists would not go unpunished," he added.
Duque described Guacho as "one of the most horrendous criminals that our country has ever known." And Friday's news are "an achievement of an entire country," according to the president, because Army, Police and Technical Investigation Corps of the Prosecutor's Office were involved.
Guacho was the leader of the Oliver Sinisterra Front, a guerrilla group made up of dissidents of the dissolved organization FARC. Besides him, at lesst one other member of the OSF is said to have been killed during the law enforcement deployment.
Duque insisted his message to criminals "is clear: we are not going to take a step back in the conviction of defending the legality, life, honour and property of Colombians."
Arizala, who a little over a year ago was practically unknown in Colombia, became one of the main narco-traffickers in the country when he ignored the peace agreement between FARC and the Colombian government.