Bolivian police colonel sacked over controversial statements regarding feminicides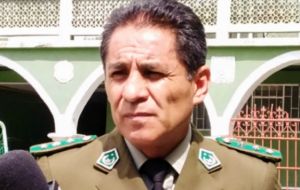 Bolivian Police Chief Rómulo Delgado Friday ordered the "immediate" dismissal of the director of the Special Force for the Fight against Violence (Felcv) of La Paz, Colonel Víctor Hugo Soria, who sparked controversy for having allegedly said that the consumption of alcohol and the "double life" of women caused feminicides.
Soria has categorically denied having said so and that "at no time" did he blame the victims for their behaviour, but the newspaper La Razón has broadcast the audio which would prove otherwise.
Delgado explained Soria's words that femicides "are usually presented by the excessive consumption of alcoholic beverages [and are] often problems of passion, jealousy, distrust, infidelity product of the woman's double life, being with her husband and having someone else," provoked a wave of rejection. The statements went viral rapidly, sparking a wave of controversy.
When asked about what he believed the causes of hate crimes against women were, Soria replied: "There are several causes for feminicides, they can be social, cultural, socio-educational, that is, they even come from training (...) There are cases when the woman is in a state of drunkenness and the crime (of the aggressor) is the same and we give attention to the victim," he said.
Soria's replacement as head of the Felcv is yet to be announced.