CFK to be Number 2 in Fernández-Fernández ticket for Argentina's presidency
Saturday, May 18th 2019 - 13:45 UTC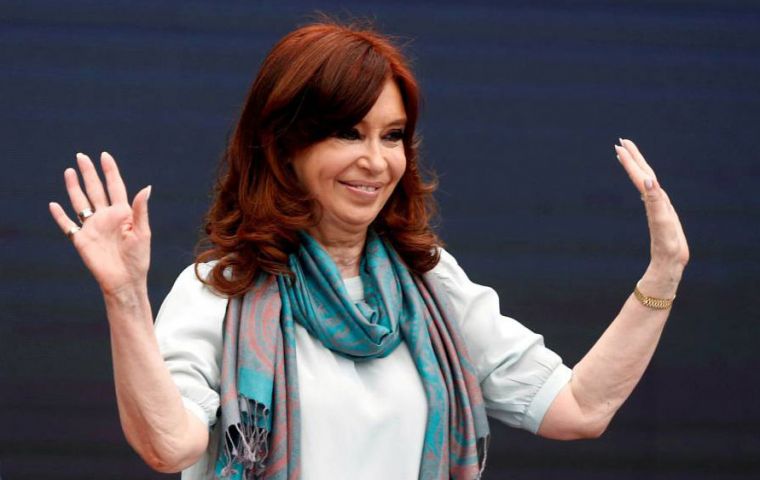 Former Argentine two-time President Cristina Fernández de Kirchner (CFK) rattled an otherwise quiet Saturday morning by announcing she would run for the country's vice-presidency in this year's elections behind her former Cabinet Chief Alberto Fernández.
Alberto Fernández was Cabinet Chief under Néstor Kirchner between 2003 and 2007 and stayed in his position when CFK was elected, but he resigned the following year allegedly due to his eroded image from negotiations with the Argentine Rural Society (SRA) over export taxes. He distanced himself from Cristina since then but came back under the spotlight in 2019 as an acting spokesman for CFK.
A trial against Cristina over alleged acts of corruption during her terms as president is slated to start this coming Tuesday, May 21, but it remains to be seen whether the now serving Senator will choose to appear in court or, instead, shelter behind her parliamentary immunity.
Earlier this past week, the Peronist movement joined ranks behind Cristina for this year's presidential elections, making it clear there would be no other Justicialist candidate in the first round that could diminish her chances at a very much foreseeable runoff with incumbent President Mauricio Macri of the PRO-Cambiemos coalition.
The Justicialist Juan Schiaretti last Sunday was reelected as governor of Còrdoba with around 50 percent of the votes, thus dealing a severe blow to Cambiemos, whose chief candidate, Mario Raúl Negri -originally from the Radical Civil Union (UCR)- drew as little as 17 percent of the votes.
A split UCR is also casting doubts on Cambiemos' strength. Apart from Córdoba, where another Radical candidate (Ramón Mestre Jr. -son of former Governor Ramòn Mestre Sr-) and other Radicals such as Ricardo Alfonsín -son of former President Raúl Alfonsín- chose not to join forces within Cambiemos at a nationwide scale.
CFK's political move is regarded as brilliant by her supporters and as a sign of weakness from Cambiemos' angle.
"She knows she can't win, so she's not running for president not to be regarded as the mother of defeat," said a Cambiemist supporter.
But "Alberto to govern, Cristina to power!," celebrated a die-hard Peronist. "We win in the first round!," he added.
If elected, there's no question who would be making the important decisions. And the vice-presesident can easily be in charge of the Executive, provided the president is away.

It would not be the first time in Argentine history. In 1867, President Bartolomé Mitre had to return from personally leading the Argentine forces in the War of the Triple Alliance when Vicepresident Marcos Paz passed away after months in charge of the Executive.