Argentina with a multi-party delegation to claim the Falklands at the C24 meeting
Saturday, June 22nd 2019 - 11:18 UTC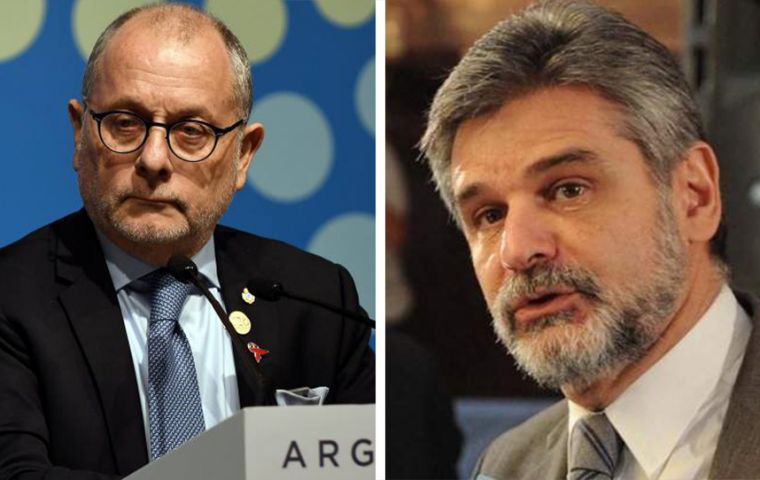 It's an election year in Argentina so a pluralistic delegation will be travelling to New York to make the country's annual claim over the Falkland Islands sovereignty before the United Nations Decolonization Committee, next Tuesday, according to reports in the Buenos Aires media.
The delegation will be headed by foreign minister Jorge Faurie and will include opposition Kirchnerite lawmaker Daniel Filmus, Tierra del Fuego province Malvinas affairs chairman, Jorge Argüello and incumbent Senators Julio Cobos, who has visited privately the Falklands and Federico Pinedo who is a long line descendent of the original settlers' party in the late 1820s but who were removed by US seal hunters and later the returning British in 1833. Also attending will be Cornelia Schmidt-Lierman, chairwoman of the Lower House foreign relations committee.
This will be one of the first time the official Argentine delegation to the C24 meeting invite members of the opposition to participate.
Apparently foreign minister Faurie will underscore the current constructive approach of president Mauricio Macri administration's to the Falklands/Malvinas question, which among other things, under the guidance of the International Red Cross, and following on an Argentine/UK joint statement, opened the way for the humanitarian plan to help identify most of the remains buried in the Falklands, in the Argentine military cemetery, under a gravestone that read, "Argentine soldier, only known to God".
A most effective and satisfying humanitarian undertaking that has been praised worldwide as an example of collaboration. .
As happens annually the Argentine delegation will demand the resumption of sovereignty discussions with the UK on the Falklands' future, but this time will also want to introduce to the discussion the recent advisory decision from the International Court of Justice referred to the Chagos archipelago, calling on the UK for a rapidly as possible to end the occupation and colonization process, allowing its displaced inhabitants to return to those islands, originally under Mauritius jurisdiction
Additionally Minister Faurie is expected to reiterate, in the name of the Argentine government, that Falkland Islanders, "take advantage of our education and national health system, under the same conditions as the rest of Argentine citizens".
As in previous meetings the misbalance of the C24 committee is forecasted to support a declaration, sponsored mostly by Latin American countries, calling on UK and Argentina to resume negotiations on the Islands future, in support of the legitimate rights of Argentina over the Malvinas, putting an end, through peaceful means to the controversy