Uruguay and Argentina with a "dry border" for the first time in history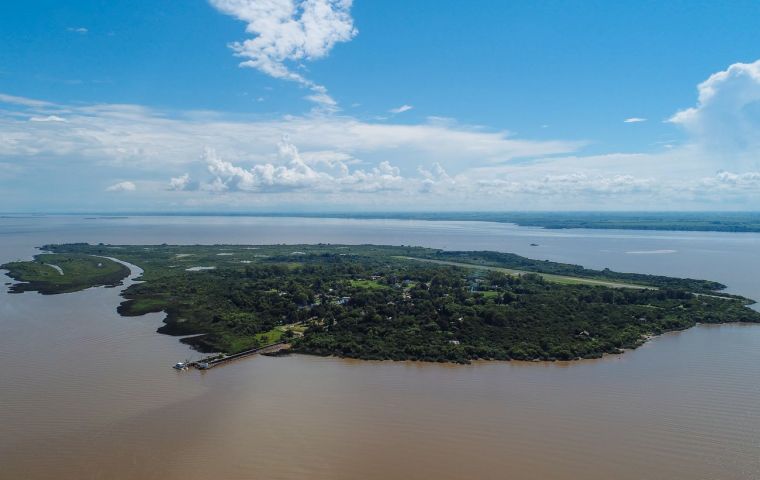 Uruguay and Argentina will have for the first time a "dry border". This is not because historians, cartographers or geographers suddenly found out, or Uruguay grabbed land from its larger neighbor.
It is much simpler and has been growing for decades as the sediments brought along by the mighty Parana and Uruguay rivers accumulate in the River Plate. In effect there is a small island, less than two square kilometers, close to the city of Carmelo, Colonia, by the name of Martin Garcia, which although in Uruguayan waters, is considered Argentine, but of joint bi-national administration.
This according to the 1973 River Plate accord which was sponsored during the third presidency of ex Argentine president Juan Domingo Peron. The terms of the accord put an end to disputes going back to the time of the Spanish colonial empire, and were actually generous with Uruguay.
However to the north of Martin Garcia, another island, Timoteo Dominguez, started to emerge with the sediments of the South American basin, finally encroaching and joining the original Martin Garcia island.
So in practical terms this means that the mid River Plate islands, Martin Garcia and Timoteo Dominguez, have joined and Argentina and Uruguay have decided to establish the limits. In other words the only dry border between the two countries, even when surrounded by water. Until now the neighbors were officially separated by the River Uruguay and the River Plate.
This issue and others relative to the dredging of channel accesses to Carmelo in Uruguay and the port of Buenos Aires are in the agenda which the two countries have been addressing with an open mind. A radical change since president Mauricio Macri administration took office in Buenos Aires in 2015, and a radical change from the aggressive and bullying attitude of the previous Argentine governments under the Kirchner couple, Nestor 2003/07 and Cristina 2007/2011 and 2011/15.
They systematically denied to address the dredging (a joint decision under the River Plate agreement), and sponsored the closing of bridges across the river Uruguay to protest the establishment in Uruguay of a Finnish capital pulp mill. These actions caused great losses to Uruguayan trade and tourism.
"We have reestablished and normalized relations between Uruguay and Argentina, which has allowed us a greater understanding in the canals dredging both in Martin Garcia and the river Uruguay, among other issues", recently pointed out the Uruguayan foreign minister Rodolfo Nin Novoa in a meeting in Buenos Aires.