US and China seem willing to reach a trade deal next Saturday in Osaka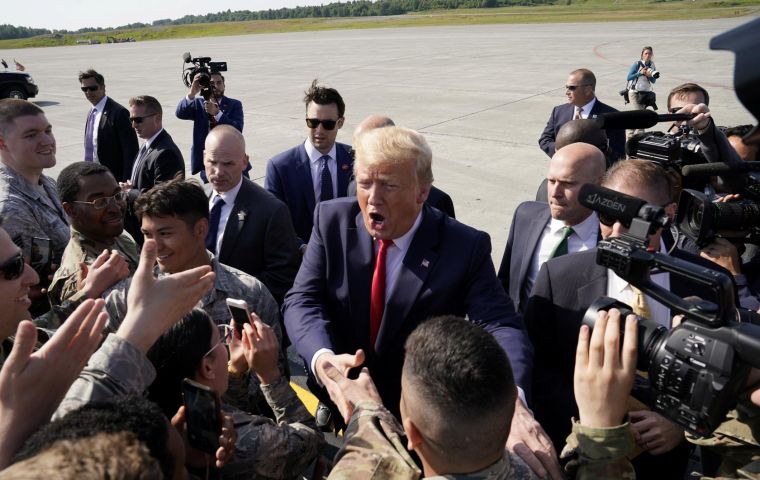 United States president Donald Trump said on Wednesday that a trade deal with Chinese President Xi Jinping was possible this weekend but he is prepared to impose U.S. tariffs on virtually all remaining Chinese imports if the two countries continue to disagree.
Trump, who departed for the G20 leaders summit in Osaka, Japan, on Wednesday, also raised the possibility that he may impose a lower, 10%t duty on a US$300 billion list of Chinese imports, instead of the proposed 25% rate.
Trump is expected to meet with Xi on Saturday in Osaka, a conversation that could revive stalled negotiations between the world's two biggest economies or launch a much deeper, costlier trade war that would drag down global growth and roil financial markets.
"It's absolutely possible. ... We have to get a good deal," Trump said in an interview with Fox Business Network. "It's possible that we'll make a deal, but I'm also very happy where we are now."
Relations between Washington and Beijing have spiraled downward since talks collapsed in May, when the United States accused China of reneging on pledges to reform its economy.
Trump said Chinese leaders "want to make a deal. They want to make a deal more than I do."
U.S. Trade Representative Robert Lighthizer and Treasury Secretary Steven Mnuchin are due to meet with Chinese Vice Premier Liu He ahead of the Trump-Xi meeting.
U.S. Commerce Secretary Wilbur Ross also was added to the U.S. delegation at the last minute at Trump's request, a senior U.S. official said at a Washington event where Ross had been scheduled to speak.
Some Chinese officials who were not previously part of China's delegation were also applying for Japanese visas, an industry source briefed on the matter said, adding that this was a possible sign of momentum for the Trump-Xi meeting.
Shortly after Trump returns from the Osaka summit, he will be in a position to impose a 25% tariff on US$300 billion worth of Chinese consumer goods from cellphones, laptop and tablet computers to tube socks and baby carriers.
A public comment period on the tariffs ends on July 2 following seven days of public hearings in which U.S. companies large and small begged to be spared from the tariffs and warned of hardships in shifting production out of China..
"I would do additional tariffs, very substantial additional tariffs, if that doesn't work, if we don't make a deal," Trump said on Wednesday. But he added that he could consider lowering the duty to 10% from the proposed 25%.
Administration officials have said that a 10% tariff is more easily offset by Chinese companies absorbing the added costs and by declines in the value of China's yuan currency.
More than half of Chinese consumers have recently avoided U.S.-made products in support of their country, according to a new poll conducted by London-based advisory firm Brunswick. The poll of 1,000 Chinese and 1,000 American consumers showed that 68% of Chinese respondents said their opinions of US firms had become more negative, while 59% of Americans had an unfavorable opinion of China-based companies.
Global trade tensions contributed to a 2.1per cent drop in the April U.S. trade deficit to US$50.8 billion as both imports and exports fell, the Commerce Department reported on
Wednesday. But the April U.S. trade deficit with China jumped nearly 30% to US$26.9 billion, while the trade gap with Mexico fell sharply.