Bolsonaro called off delayed meeting with China's Xi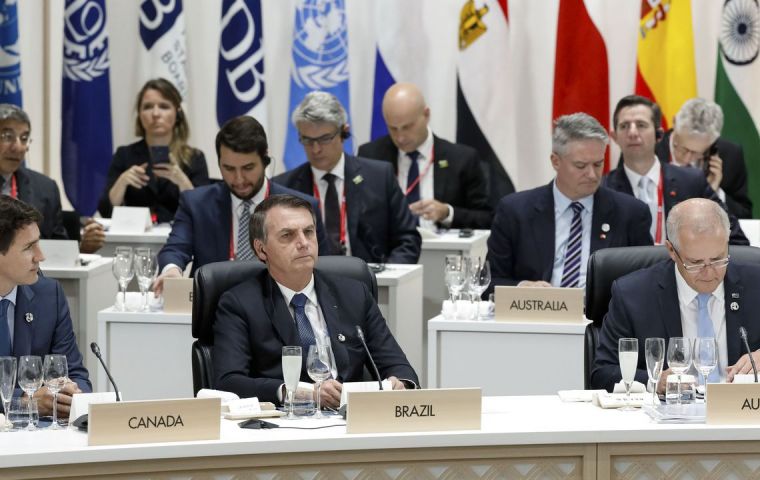 Brazilian President Jair Bolsonaro called off a meeting on Saturday in Japan with Chinese counterpart Xi Jinping after his delegation was left waiting it was reported in the Brazilian media.
Anyhow the two leaders are scheduled to meet next November when Brazil hosts the BRICS (Brazil, Russia, India, China and South Africa) summit in Curitiba, and there is a scheduled visit of the Brazilian leader to China next October.
Delays in meetings at multilateral summits are not unusual -- timetables often slip, and Russian President Vladimir Putin is famous for running behind, for example -- it is less usual for a leader to call off a chat entirely.
The meeting on the sidelines of the Group of 20 Summit in Osaka was to start at 2:30pm local time. At 2:55pm, a press officer told reporters the meeting had been cancelled.
Bolsonaro's spokesman Otavio Rego Barros said the delegation had to pack its luggage and make sure it was on time for the flight on the presidential airplane. "The president decided to call off this bilateral meeting," he said. "The meeting was much delayed already, we were waiting in the bilateral meeting room."
China is Brazil's top trading partner, gobbling up commodities from Latin America's largest economy. Bolsonaro prides himself on his relationship with US President Donald Trump, which may have emboldened him to likewise present himself as a hard negotiator, according to Mauricio Santoro, a political-science professor at Rio de Janeiro's state university. Bolsonaro is due to visit China in October.
"There is a great risk of backfiring," Santoro, who teaches a course on relations with China, said in an email. "Exports to China are concentrated in a small group of products: soy, oil, iron ore. It's not difficult for the Chinese to create serious problems for Brazil to put political pressure on Bolsonaro."
China invests heavily in Brazil, which is eager for international companies to participate in its privatization program and deploy capital to accelerate economic growth.
While Bolsonaro spoke on the campaign trail of lessening Brazil's economic dependence on China, some in his administration have since sought to mend fences. Vice-President General Hamilton Mourao said in May that pragmatism was needed for the health of Brazil's economy.
Bolsonaro's agenda in Osaka included meetings with US president Donald Trump, Russia's Vladimir Putin, Macron from France and Argentina's Macri among others.