No fatalities as Hurricane Barry hits Louisiana but spares New Orleans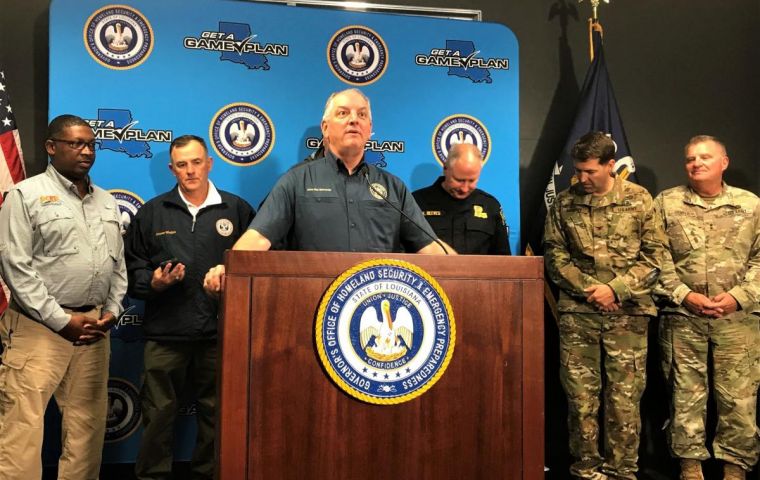 No serious injuries or major damage were reported as Barry reached the state of Louisiana Saturday as a Category 1 hurricane. It did not hit New Orleans directly but caused power cuts and brought floods to several areas along the southern part of the Mississippi River.
"We're thankful that the worst-case scenario did not happen," said Louisiana Governor John Bel Edwards after President Donald Trump had declared a state of emergency, authorizing federal funds to help local authorities.
Barry weakened further Sunday, bringing along heavy rains and the possibility of flooding and tornadoes and multiple bands of showers.
Fortunately, no casualties were reported either in Louisiana or its neighboring states from what had briefly become the first hurricane of the Atlantic season before the National Hurricane Center downgraded it to a tropical storm and then a tropical depression.
Barry was the second named storm of the 2019 Atlantic hurricane season, which ends officially on November 30.
Still, as the storm moved inland on a northern track, it packed a serious punch. Louisianans kept a wary eye on rivers and canals badly swollen by the torrential rainfall, following an extraordinarily wet season farther up the Mississippi River.
This is "the wettest year we've had since 1895," Major General Richard Kaiser, who heads the Mississippi River Commission, said on Fox News. He added that the broad river is "the highest it's been for a long time" -- just below flood stage.
Bands of heavy rain continued to lash New Orleans, the state's biggest city, but its airport was able to resume normal service after canceling all flights on Saturday.
Fears that the levee system protecting New Orleans could be compromised eased.
Mayor LaToya Cantrell told reporters Sunday that "we absolutely made it through the storm. We are lucky; we were spared."
But by Sunday, National Guard members were still laying down sand-filled barriers in a bid to contain flooding after "severely high water" overtopped levees in the Plaquemines town of Myrtle Grove, according to parish information officer Jade Duplessis.
Pete Gaynor, the acting administrator of the Federal Emergency Management Agency, told Fox that "there are still life-threatening conditions." He explained that floodwaters farther up the engorged Mississippi will be moving south in coming days.
Tornadoes were possible in parts of Louisiana, Mississippi, Alabama, Arkansas and Tennessee.
Rainfall estimates lowered further to between three and five inches (8 to 13 centimeters) over south-central Louisiana but rivers and canals are already near capacity.
Across southern Louisiana, Barry's heavy winds scattered tree branches and knocked down power lines, leaving an estimated hundred thousand people without electricity. Reporters saw localized flooding and badly swollen waterways.
For many, the storm revived unpleasant memories of Hurricane Katrina. While thousands of Louisianans fled for safety as the storm approached, others hunkered down to ride it out, sometimes defying mandatory evacuation orders.
In 2005, Katrina was the costliest and deadliest hurricane in recent US history. It submerged about 80 percent of New Orleans after the city's levee system failed, causing about 1,800 deaths and more than $150 billion in damage.