Macri paves way for Hezbollah to be deemed 'a terrorist organisation' in Argentina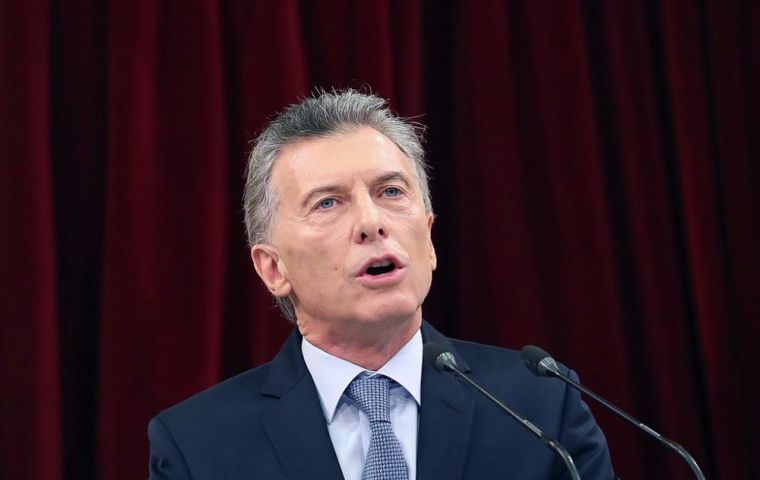 The Argentine Government has created the Public Registry of Persons or Entities Linked to Acts of Terrorism and its Financing (RePET), a tool whereby Hezbollah can be included. So far, local authorities adhered to the list penned by the United Nations, where Hezbollah is not included. President Mauricio Macri also decreed a day of national mourning to mark the 25th anniversary of the bombing of the Israeli Social Welfare Association (AMIA) in Buenos Aires. In a third measure, Macri gave the victims of that attack 180 days to file for monetary compensation from the state.
RePET was created by Decree 489/2019, published Wednesday in the Official Gazette, which modified legislation dating back to June 2012 and established the creation of the new registry.
Apart from the AMIA attack where 85 people were killed, the Shiite group Hezbollah is believed to have been behind the 1992 bombing of the Israeli Embassy in Buenos Aires, which left 29 dead.
RePET will be "guaranteeing the correct identification and individualization" of the terrorist groups, according to a Casa Rosada spokesperson.
The registry will function within the Ministry of Justice and will provide access and exchange of information on natural and legal persons, linked to terrorist acts or their financing and facilitate domestic and international cooperation to prevent, combat and eradicate terrorism and its financing.
Macri's measures are considered to be a response to separate requests from the United States and Israel among other countries as well as from the local Jewish leadership.
"It is a registry that allows [us] to provide accurate information to the various actors in charge of the prevention and repression of terrorist acts," Justice Minister Germán Garavano was quoted a saying. "It is a step forward so that never again in our country do we suffer such attacks," he added.
However, there is a concern in diplomatic circles over the fact that Argentina chose to go solo on this issue instead of following the UN's list.
Also, Lebanon is currently on friendly terms with Argentina, and in the Lebanese cabinet, some ministers belong to Hezbollah's political wing.
"The decree allows organisations that have attacked Argentina (such as Hezbollah) and that are not on the UN lists to be considered as terrorists, because they have committed an attack on national territory" and to check on their assets, Security Minister Patricia Bullrich told the Clarín newspaper.
"The issuance of the decree ... is important, insofar as it is indicated after the framework granted to the Registry, that Hezbollah is a terrorist organisation in all its expressions, also in politics,"
DAIA President Jorge Knoblovits said.
He added that "after this there will be a new fact in the judicial case, reinforcing the accusations against the leaders of the Islamic Republic of Iran."