Falklands/Malvinas war experience conference forcibly cancelled at Buenos Aires college
Thursday, July 18th 2019 - 23:55 UTC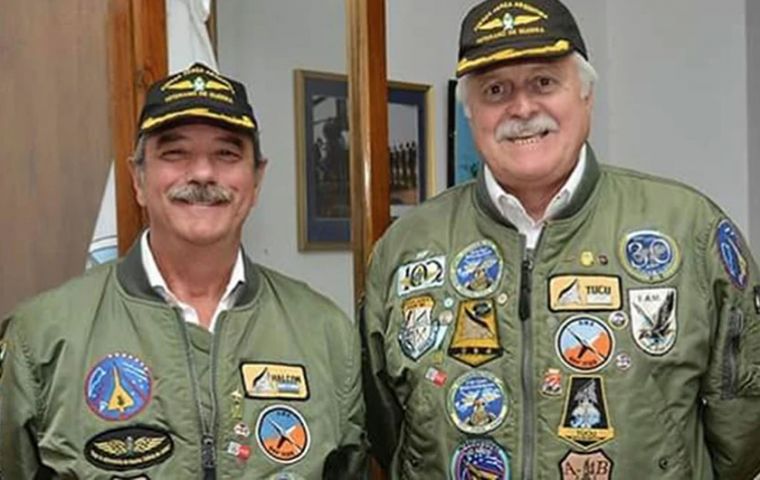 An open conference by two Argentine Air Force pilots at an elite college in Buenos Aires had to be suspended following "ill-treatment" and overall questioning of Argentine armed forces conduct by the students and apparently one of the parents that were also invited to the event.
The ex pilots of A4-B bombers, Hector Sanchez and Luis Cervera were invited to talk about their 1982 experiences last week, at the prestigious Colegio Nacional Buenos Aires, but according to a release in the social networks, "were repeatedly interrupted by a person in his forties, with no respect for the pilots or the school authorities, who criticized the event and was disrespectful to the Argentine armed forces, while students effusively applauded".
The promoter of the incident accused the pilots and school staff of attempting to "brainwash" students.
The conference was immediately suspended and the college stated in a release its institutional commitment to the democratic system, the Constitution, international human rights legislation and the defense of the values of Memory, Truth and Justice, the foundations of the motherland.
The school added that as part of its curricular and extracurricular activities, and as a pre university institution it is guided by absolute pluralism of ideas and critical thinking in all disciplines. "All academic activity must be addressed in the most ample possible freedom of expression and non dogmatic approach, with room for all ideas".
"We regret that the actions of people who do not belong to the College were an obstacle for the normal display of scholarly activities, and our solidarity with any person who felt aggravated by expressions that in no way reflect the official criteria of this college".
Apparently and according to the Malvinas pilots it all started following an introductory video, when the conference was open to questions, and a student asked about the "thirty thousand disappeared of the military dictatorship".
The pilots said that "as we are accustomed to these young people born after 2000 and whose brains have been intentionally and ideologically indoctrinated, we tried to concentrate exclusively on the Malvinas heroic deed".
Bur from then on it became out of control.