Brazil agrees to review secret Itaipu deal that nearly cost Paraguay's President Abdo his job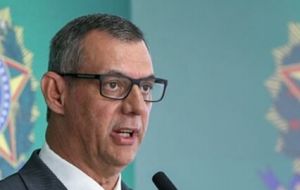 Brazilian President Jair Bolsonaro said he was open to reviewing the controversial recent energy agreement with Paraguay, which cost dignataries from the latter country their jobs and left President Mario Abdo Benitez on the brink of impeachment.
"The relationship with Paraguay is exceptional, we want to do justice on that issue" by reviewing the price of energy from the Itaipu dam's binational plant, Bolsonaro was quoted as saying.
In May, the two governments signed a secret agreement whereby the price paid by Brazil for the energy generated in Itaipu was lowered.
Itaipu supplies electricity to Brazil's southeast where the main industrial pole of the Latin American giant is located.
Brazil's presidential spokesman Otávio Rego Barros announced that his country "is open to the discussion of the terms of the agreement."
A meeting between officials of the two countries is expected to take place next Friday to discuss the issue.
Paraguay does not consume all of Itaipu's energy and sells part of that surplus to Brazil.
When the terms of that reserved negotiation with Brazil were known in Paraguay, a crisis broke out that forced the resignation of senior officials, including Foreign Minister Luis Alberto Castiglioni and Brazilian Ambassador Hugo Saguier.
Paraguay's Senate Monday rejected the May 24 agreement and instructed the Executive Branch to handle all negotiations with Brazil related to Itaipu on the basis of transparency, with the broadest participation possible of citizens and other branches of government, so that the Upper House could be at all times briefed about all the developments that occur in relation to the agreement on the purchase of energy from the Itaipu binational entity.
And President Abdo has been cautioned by the Paraguayan Parliament not to make the same mistakes again and it was hinted he [Abdo] may also need to leave if he fails to reach a positive agreeent.
A Bicameral Investigative Congressional Commission has also been created to find out exactly what happened and why.