Brazil to cut down gas imports from Bolivia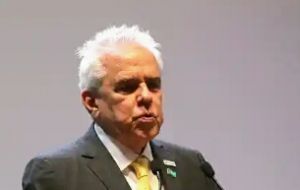 The Brazilian oil company Petrobras has announced that in the coming months it will reduce its imports of Bolivian natural gas, which it still considers to be essential nonetheless.
"We are negotiating a new contract with Bolivia to reduce imports," said Petrobras CEO Roberto Castello Branco, at a press conference in Rio de Janeiro.
"But it is still premature to say that we can do without Bolivian gas... We are going to reduce purchases in Bolivia but we cannot do without that fuel," added the president of the state.
Castello Branco explained that, as part of the agreement with the Administrative Council of Economic Defense (CADE, antitrust body of Brazil) to halve the company's participation in the gas sector, Petrobras promised to sell its stake in the Bolivia-Brazil gas pipeline and already reduce its imports so that other companies can feed frm the same duct.
"Our agreement with CADE forces us to make room for other companies to import from Bolivia," he said.
Castello Branco said that in the second quarter of this year Petrobras imported less Bolivian natural gas because, due to its lower prices in the market, it was more profitable to import LNG (Liquefied Natural Gas) to supply its customers.
In the same press conference Petrobras Refining and Gas Director, Anelise Lara, explained that, because it is such a difficult fuel to store, Petrobras analyzes all situations to supply gas, including the Bolivia-Brazil gas pipeline, and be able to use whichever is more convenient at the moment for its prices.
"Therefore, the important thing is that we can have all the alternatives available, both national gas production and Bolivian production and LNG imports, so that we opt more for one or the other depending on the price," she said.
She added that, at least in recent months, the most profitable alternative is to import LNG because its price is lower than the gas imported from Bolivia.
Bolivia's YPFB announced last month that it is interested in acquiring the 51 percent stake that Petrobras has in the Bolivia-Brazil pipeline to be able to directly negotiate its sales to different distributors.
According to the Transbolivian Gas Regulation Manager Luis Alberto Poma Callel said that in such a scenario YPFB will have more capacity to directly negotiate the sale of its gas, without the intermediation of Petrobras.
The Bolivian Government acknowledged that the hydrocarbons sector registered red figures in the first half of the year.