Steel has been cut for the Royal Navy's second Type 26 frigate, HMS Cardiff.
Saturday, August 17th 2019 - 09:29 UTC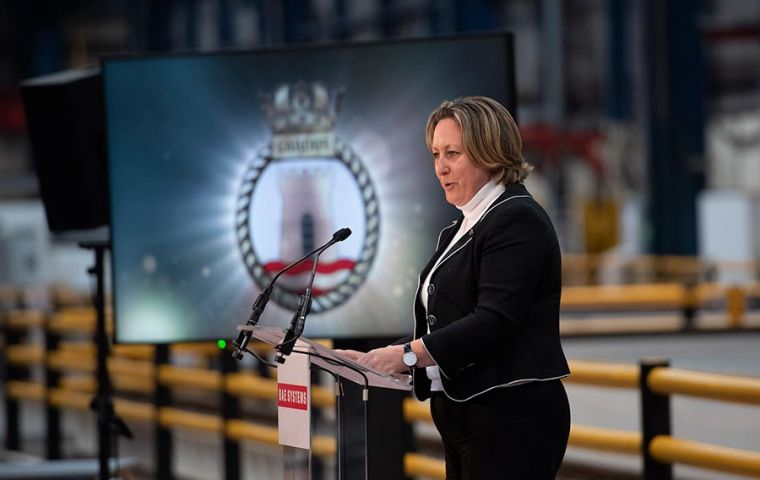 The ceremony held at BAE System's shipyard in Govan this week, on the River Clyde, marks a milestone for the Global Combat Ship program. Minister for Defense Procurement, Anne-Marie Trevelyan, pressed the button to start the plasma-cutting machine to work on a plate of steel which will form part of the unit which holds stores.
Cardiff is the second of the City class, following Glasgow, which is currently being built. The other six will be called Belfast, Birmingham, Sheffield, Newcastle, London and Edinburgh.
All eight T26s will replace the dedicated submarine-hunting Type 23 frigates, while the general duty 23s will be retired in favor of the Type 31e class, still being designed.
The 26s will carry Sea Ceptor missiles, a five-inch medium caliber gun and Artisan 997 medium-range radar.
Eight Type 26s will replace the eight dedicated anti-submarine frigates, alongside a new class of general purpose light frigates. The first steel was cut on the Navy's next-generation frigate in the summer of 2017.
First and foremost, the 26s are being designed to protect the nation's strategic deterrent and new Queen Elizabeth-class aircraft carriers from hostile submarines. The ships will be expected to deal missions across the full spectrum of Royal Navy operations – complex combat scenarios, counter piracy, as well as humanitarian and disaster relief. (RN)