Alberto Fernández is like a matryoshka doll, "you open it and out pops, Cristina, Lula, Chavez..."
Tuesday, August 20th 2019 - 09:54 UTC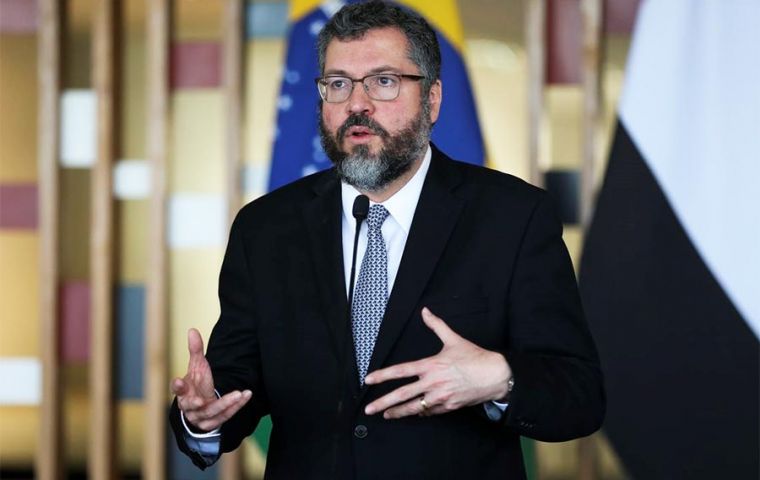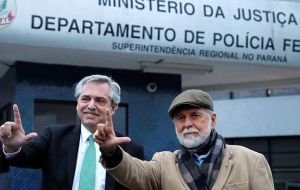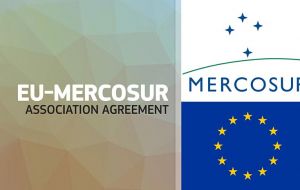 Argentine primary winner, Alberto Fernandez is like the Russian mamushka doll, "you open it and out pops Cristina Fernandez, again you open it and out pops Lula, and again, Hugo Chavez", said Brazilian foreign minister Ernesto Araújo.
Araújo joined president Jair Bolsonaro, and Finance minister Paulo Guedes is openly expressing their aversion to the current political situation in Argentina, and the possibility of a return to office of a ticket that includes ex president Cristina Fernandez de Kirchner.
Even when Fernandez has repeated that if finally elected next October, he will not implement a closed market, protectionist economy as happened during the twelve years of Kirchnerism, Araújo remained skeptical, "There are things you say while in campaign but we don´t have much illusions about this Kirchnerism version 2.0, and that it will be different from Kirchnerism Version 1.0"
Foreign minister Araújo also strongly criticized Fernandez for visiting ex president Lula da Silva, imprisoned for corruption, and also admitted there has been no contacts with the Argentine winning ticket despite their overwhelming victory by some fifteen percentage points (47% to 32%).
"He (Fernandez), had very offensive expressions towards Brazilian institutions, against our judicial system, our political process. He was offensive because the Brazilian people voted to restore institutions, the Lava Jato corruption investigations...and when you question them, you offend our institutions, your offend the Lava Jato operation, when you describe Lula as a political prisoner, you are offending the Brazilian people", underlined Araújo.
The minister also referred to the future of Mercosur if Fernandez finally reaches office. He admitted that in that case, Brazil much fears there will be a back step in the deal between Mercosur and the European Union.
"We will have to assess very carefully from a technical and political point of view what it will mean for Mercosur a change of vision, globally and regionally from Argentina. The Mercosur vision is an open integration project, and we would have to address the new situation¨, insisted Araújo.
"We are concerned we might be heading back to a time of negative results, negative impacts for both sides, Mercosur and EU, a radical approach change from Argentina can threaten the whole project".
Alberto Fernandez statements imply risks since he visualizes no advantages in the EU deal from his protectionist philosophy..."I participated as part of the Brazilian delegation in the Mercosur/EU negotiations, during the Kirchner years, and I saw and I am well aware of their attitude contrary to any agreement. Now I am under the impression that the philosophy is the same", and very different from that of presidents Bolsonaro and Macri.
Last week, Brazilian Finance minister Paulo Guedes was decisive in his statements, "if Cristina Kirchner returns to office and closes the Argentine economy, we're out of Mercosur".
Likewise president Bolsonaro from the very first moment was most critical of 11 August results condemning Kirchnerism and Latin American populism.
Bolsonaro forecasted Argentina would sink deep in chaos because the "lefty bandits" who won the primary election would follow on the steps of Venezuela.
The president also warned the people of the state of Rio Grande do Sul, which borders with Argentina, "you might be facing a situation similar to that of Roraima (border with Venezuela), flooded with refugees, and "we don't want that for our Argentine brothers, we don't want to see them running away, if the results of August are repeated in October".
"With the possibility of the Sao Paulo Forum gang returning in Argentina, the people are withdrawing all their monies from the banks...and with populism, Argentina is ever closer to Venezuela"
From the jail Lula da Silva (2003/2010) described the victory of Alberto Fernandez as impressive, while removed ex president Dilma Rousseff (2011/2016) said victory represented, "light at the end of the tunnel for Argentina and Latin America"