Falklands/Sao Paulo weekly air link with stopover at Cordoba, officially authorized by Argentina: Decree 602/2019
Tuesday, September 3rd 2019 - 09:58 UTC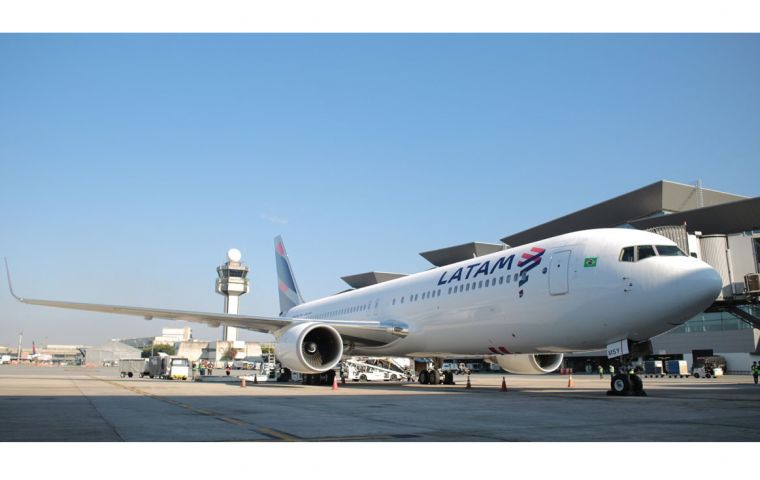 The Argentine government made official the authorization for a second weekly flight between the South American continent and the Falklands Islands, this time to Sao Paulo, Brazil with a stopover once a month, on both ways in the city of Cordoba. This means all is ready for the inauguration.
The authorization decree 602/2019 was signed by President Mauricio Macri, cabinet chief Marcos Peña, foreign minister Jorge Faurie and Transport minister Guillermo Dietrich, and states that the link will be operated by TAM/Lan .
The airlink follows discussions between Argentina and the UK, which were started when president Macri was elected in 2015, with a more positive and constructive approach to South Atlantic affairs, and resulted in the September 2016 communiqué signed by then Argentine foreign minister Susana Malcorra and Foreign minister for Latin American affairs, Alan Duncan.
The document which refers to overall UK/Argentina cooperation issues includes a specific chapter on the South Atlantic, which mentions among other points the identification of remains at the Argentine military cemetery in Darwin, a great success for science and reconciliation, plus a second air link.
The second air link negotiations which included consulting the Falklands' government concluded in the agreement on November last year with current Argentine foreign minister Jorge Faurie.
Currently Lan flies on Saturday's from Punta Arenas, Chile, to the Falklands and once a month, makes a stopover at Rio Gallegos in Argentine Patagonia.
A similar arrangement will function for the Sao Paulo link, leaving on Wednesday's from Guarulhos airport for Mount Pleasant Complex in the Falklands. Once a month the air link will stopover at Cordoba's Ingeniero Ambrosio Taravella airport.
Decree 602, an introduction and four articles, basically states that on request from Brazil's TAM-Lan the company is authorized to exploit regular international transport services of passengers, cargo and mail, using large sized aircraft, in the following routes,
a) Sao Paulo (Brazil), Falklands/Malvinas (Argentina), Sao Paulo (Brazil)
b) Sao Paulo (Brazil), Cordoba (Argentina), Falklands/Malvinas (Argentina), Sao Paulo (Brazil).
c) Sao Paulo (Brazil), Falklands/Malvinas (Argentina), Cordoba (Argentina), Sao Paulo (Brazil)