British Airways cancels most flights as pilots began a 48hour strike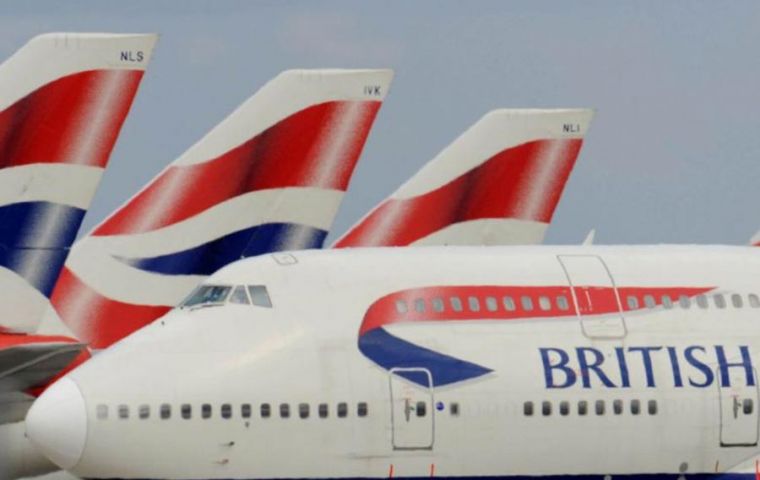 British Airways (BA) said on Monday it has cancelled almost all flights as pilots began a 48-hour strike. The UK flag carrier and its 4,300 pilots have been locked in a nine-month pay dispute that could disrupt or alter the travel plans of nearly 300,000 people.
The British Airline Pilots Association (BALPA) last month gave the airline notice of three days of industrial action in September, in what is the first ever strike by BA pilots.
Following the strikes on Sep 9 and 10, another day of industrial action is scheduled for Sep 27.
"Unfortunately, with no detail from BALPA on which pilots would strike, we had no way of predicting how many would come to work or which aircraft they are qualified to fly, so we had no option but to cancel nearly 100 per cent our flights," the airline said in a statement on Monday.
BA is preparing to cancel 850 flights on Monday.
The Financial Times said the airline normally operates 1,700 flights over a 48-hour span.
A "vast majority" of its passengers have either made alternative arrangements or accepted refunds since being informed of the possible walkout last month, said the airline.
"We don't underestimate the inconvenience caused, for which we are deeply sorry," BA said in a statement to customers on Sunday.
BALPA has said that BA should share more of its profits with its pilots. BA has said the strike action is unjustifiable as its pay offer was fair. BALPA has rejected a pay increase of 11.5 per cent over three years that the airline proposed in July.
"This strike will have cost the company considerably more than the investment needed to settle this dispute," BALPA General Secretary Brian Strutton said in a statement on the eve of the strike.
"It is time to get back to the negotiating table and put together a serious offer that will end this dispute."
BA says the offer would see flight captains receive "world-class" pay and benefits of around £200,000 (US$246,000) a year.
It also points out that two other unions representing 90 per cent of the airlines' workers have accepted the 11.5-per cent raise.
BALPA counters that co-pilots' salaries average around £70,000 - and that of junior ones drops down to just £26,000.
This leaves some in heavy debt since they must first undergo training that the BBC estimates costs around £100,000.
BALPA also points to a nearly 10 per cent jump in pre-tax profits reported by BA's parent company IAG last year.
"One day of strike action will cost BA, on their own figures, £40 million," BALPA tweeted on Sunday.
"The difference between us now is £5 million. Why won't they work with us to end this dispute?"
Last Thursday, the airline dismissed a new offer by BALPA as an "eleventh hour inflated proposal" that was not made in good faith. BALPA had said it would have called off the strikes this week if BA had engaged with the offer.
The union said that BA never replied to a counteroffer it made to the airline on Wednesday.
The airline has come in for criticism over how it handled communications with passengers ahead of the strikes.
The UK Civil Aviation Authority (CAA) is investigating the airline after it enraged some travelers by wrongly telling them their flights had been canceled.
A spokeswoman for Prime Minister Boris Johnson has urged both sides to end the dispute.
But BA only upped the stakes by reportedly threatening to strip pilots and their families of free travel perks if the strike action goes ahead.
"We make no apology for doing everything we can to protect our customers from further disruption," a BA spokesperson told the Financial Times on Friday.
When asked about the strike on Monday, BA said: "After many months of trying to resolve the pay dispute, we are extremely sorry that it has come to this. We remain ready and willing to return to talks with BALPA."