Unemployment on the rise in Macri's Argentina
Friday, September 20th 2019 - 16:44 UTC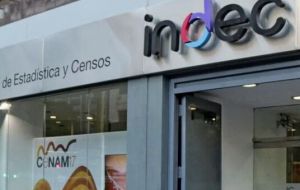 Unemployment in Argentina reached 10.6% in the second quarter of 2019, the highest ever since President Mauricio Macri took office in December, 2015, according to data released Thursday by the National Institute of Statistics and Census (INDEC).
The report also showed that women aged 14 to 29 were unemployed at a rate of 23.4%, against 21.5% recorded for the same period in 2018, while 18.6% of the men in the same age group were jobless, compared to 17.3% in the same period last year.
In a study based on geographical location, 12.7% of the active population in the districts surrounding the nation's capital was found to be unemployed while only 9.2% was in the same situation within the City of Buenos Aires limits for a combined result for the Greater Buenos Aires metropolitan area of 11.9%.
Other cities and areas to show high unemployment rates were Mar del Plata (13.4%), Greater Córdoba (13.1%) and the northern province of Salta (12.7%).
In practical terms, around 2.5 million people are unemployed, with 320,000 of them joining those ranks in the past 12 months, which reflects a sharp drop in employment during the Mauricio Macri government.
When Macri came to power and the first official, reliable INDEC measurements were disclosed unemployment for the second quarter of 2016 was 9.3%. A year later, it fell to 8.7% and rose again to 9.6% in the second quarter of 2018, as recession became noticeable.
Thursday's 10.6% was also the highest unemployment rate in 13 years.
Also by mid 2019 18.3% of those employed were also seeking to change jobs or supplement their income as opposed to last year's 16%.
The Indec release also showed an increase in the rate of under-employed population, that is, people who work less than 35 hours per week. That percentage went up from 11.2% to 13.1%. Of that total, 7 out of 10 are demanding a higher workload.
Sorted out by activity, the manufacturing industry and commerce increased above the rest, with increments between 1.1 and 0.6 percentage points, respectively. each case, to represent 10.8% and 17.2% of the total unemployed.