Ten Falklands' Governors take Sukey Cameron to lunch
Friday, October 11th 2019 - 09:48 UTC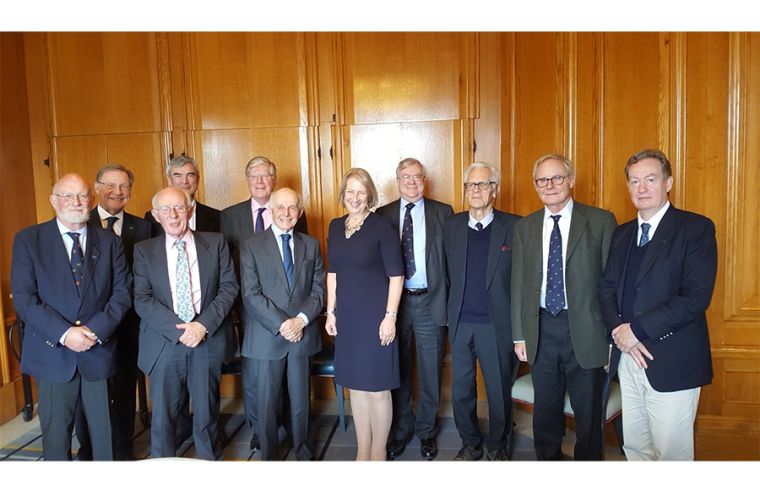 Ten Falkland Islands former Governors took Sukey Cameron MBE to lunch to mark her retirement as Falkland Islands Government Representative in London. Ms. Cameron told Penguin News she believed it was the first occasion that they have all been together.
Pictured: Alan Huckle (2006-10), John Duncan (Acting 2014), Nigel Haywood CVO (2010-14), David Tatham CMG (1992-95), Howard Pearce CVO (2002-06), Sir Gordon Jewkes KCMG (1985-88), Sukey Cameron MBE - Falkland Islands Government Representative - Donald Lamont (1999-2002), William Fullerton CMG (1988-92), Richard Ralph CMG CVO (1996-99), Colin Roberts CVO (2014-17).
Penguin News attempted an answer to the question 'What do you call a group of Governors?' The Deputy Editor's suggestion was 'a plumage of Governors'.
As has happened for decades, the UK political party Conferences have been a great success for the Falkland Islands, but it sadly was the last for Sukey Cameron MBE as she will be retiring at the end of October.
She attended 32 consecutive party conferences seasons representing the Falkland Islands Government.
In recognition, of her incredible achievement Sukey was presented an award by Emily Thornberry MP from the Labour Party and was featured in the Conservative Party conference program and gifted a bottle of champagne by James Cleverly MP from the Conservative Party.
The government and people of the Falklands are most grateful to Sukey for her tireless work at the party conferences representing the Islands.
"You will be missed by everyone at the conferences" (Penguin News).