Argentina awards hydrocarbons exploration licenses in the West Malvinas basin
Saturday, October 19th 2019 - 09:58 UTC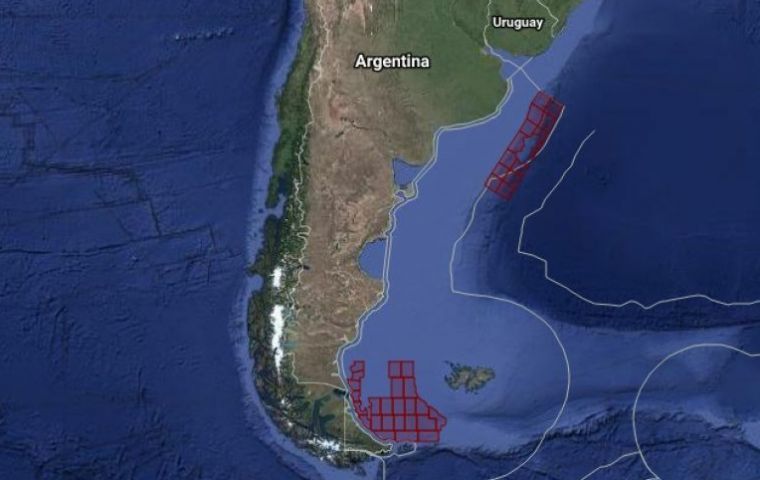 The Argentine government awarded ENI Argentina Exploración y Explotación; Tecpetrol, and MEMPLO, a subsidiary from Japan's Mitsui hydrocarbons licenses to explore an offshore area. MLO/124 in the so-called West Malvinas basin.
Secretary of Energy resolution 645 published in the Official Gazette authorizes the consortium to begin exploration operations in MLO/124 which covers an area of 4.418 square kilometers with an average depth of 1.500 meters.
The exploration period is eight years divided in two chapters, in the first four years they must invest 12.521 work units, as committed in the terms of the bid. Once the eight years are over the consortium is entitled to request an additional five year extension.
"The Argentine continental shelf and the different basins are under-explored, which is lacking for their development", points out the resolution. In 2018 the Energy Secretary was instructed to call an international public concourse to award exploration licenses in those offshore areas.
Last May the first areas of the West Malvinas basin were announced. ENI, Tecnopetrol and Mitsui offered US$ 67.6 million for the MLO/124 block. It was the third highest bid behind Tullow Oil, Pluspetrol and Wintershall which to explore MLO_119 offered US$ 82.4 million and US$ 105.9 million for MLO/114 by the same consortium.
The licensees have the right to an exploitation license for the hydrocarbons they discover in the areas licensed. They will also have total availability of hydrocarbons from the area.