Argentine navy's school vessel, tall ship ARA Libertad arrives in London on Friday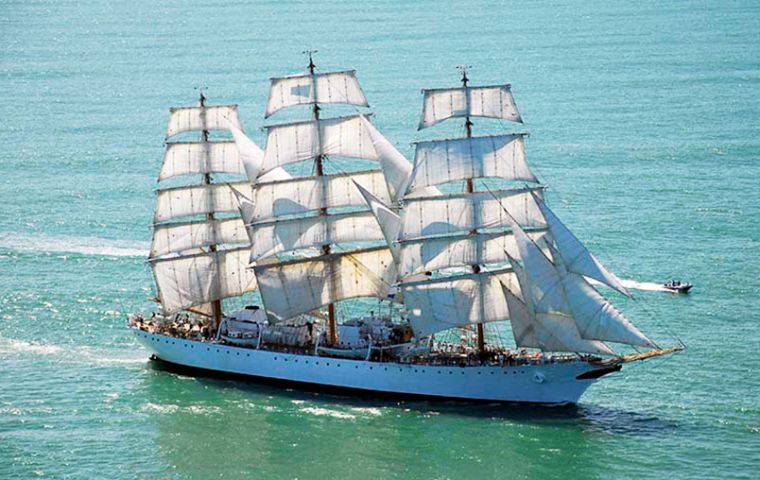 Next Friday, Argentina's Frigate A.R.A. Libertad, the navy's school vessel will dock in London after 17 years. Under the command of Captain Romay, the arrival of one of the largest and fastest tall ships at the docks of South Quay in Canary Wharf will mark the half-way point on the 48th midshipman training voyage.
In its role as Ambassador of the seas, the tall ship carries a message of peace, friendship and a will to build bridges with the world. The `Libertad´ last visit to London was in 2002. Over the past years, the `Libertad´ has docked in Liverpool (2016) and in Southampton (2017).
The Frigate departed from Buenos Aires on 17th of August and will navigate over 23 thousand miles in 2019, visiting 15 ports in 10 countries, including: Salvador de Bahía (Brazil); Santa Cruz de Tenerife and Cadiz (Spain); Lisbon (Portugal); Brest (France); Antwerp (Belgium); London (United Kingdom); Dublin (Ireland); Boston and Miami (U.S.A); Bridgetown (Barbados); Recife and Rio de Janeiro (Brazil) and Montevideo (Uruguay).
The historic ship will be open for visitors for free tours on Saturday 26th and Sunday 27th of October. The public will be able to visit it in South Quay of Canary Wharf and tour the historic ship, which will feature Argentine artistic, commercial, sports, scientific and cultural expressions aboard the navy's vessel.
On Tuesday 29 October ARA Libertad departs for Dublin.
ARA Libertad is a steel hulled, full rigged class a sailing ship that serves as a school vessel in the Argentine navy. She was designed and built in the 1950s by the Rio Santiago Shipyard, Ensenada, Argentina and her maiden voyage was in 1961. She continues as a training vessel with annual instruction trips for the graduating naval cadets.