President Macri defeated but confirmed as the next leader of the opposition
Monday, October 28th 2019 - 09:55 UTC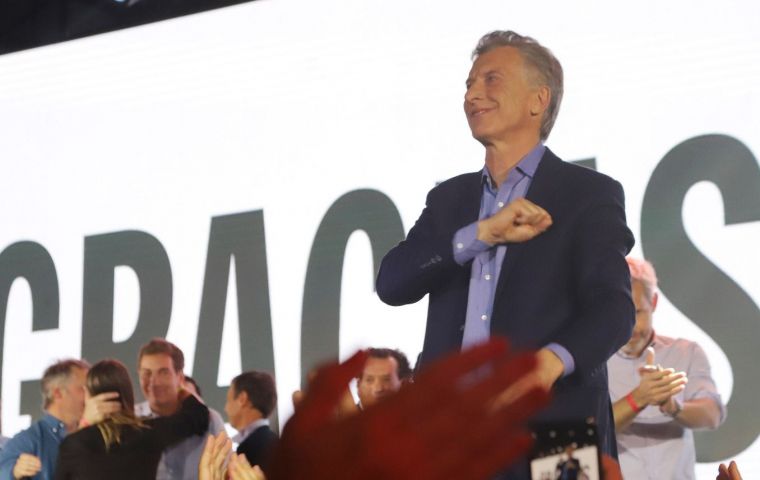 Argentine President Mauricio Macri's performance this Sunday following the trashing defeat he suffered last August during the PASO primaries (48% to 32%), was in effect quite surprising. He managed to recover eight points and cut the difference from 16 to eight points, 48% to 41%, besides winning in the main electoral districts of Argentina except for the always decisive Buenos Aires province.
In effect Macri's "Let's Change" coalition mounted on the rallying cry of "Yes we can, yes we can turn around the election", completed with thirty major rallies all over Argentina in two months, including the formidable display when half a million people turned up in downtown Buenos Aires, can only be described as a great achievement.
But it was not enough since the Fernandez/Fernandez ticket was stonewalled at 48%. Nevertheless Macri managed to win in the City of Buenos Aires, his party's stronghold, and the provinces of Cordoba, Santa Fe, Mendoza, Entre Rios and San Luis. He also had a good performance in Chubut, Corrientes and Jujuy, losing with a minimum difference to the Alberto Fernandez, Cristina Fernandez de Kirchner ticket.
This means that Macri was victorious in four of the five main electoral circuits of Argentina, but missed the most significant one, the province of Buenos Aires, with over 35% of registered voters, traditionally a Peronist turf, now Kirchnerite. And this despite the efforts of outgoing governor Maria Eugenia Vidal, the first woman to be elected to that post.
Compared to the PASO primaries when the turnout was 74%,this time turnout reached 81%.
Summing up this means that Macri continues as undisputed leader of the current ruling coalition, and most probably will be heading the main opposition grouping in Congress. The August 11 defeat had triggered rumors that Macri could be displaced by Ms Vidal or most probably by Rodriguez Larreta, who was reelected in the City of Buenos Aires with 55% of the vote.
The final composition of the next Congress, with which Fernandez will have to work as of next 10 December most probably will be known in the next two days. The whole of the Lower House, 130 seats, and a third of the Senate, 24, were up for grabs. For the opposition it is important to have sufficient votes to condition quorum or special legislative majorities. New ball game roles interchanged.