New Falklands Patrol, HMS Forth, sails to the South Atlantic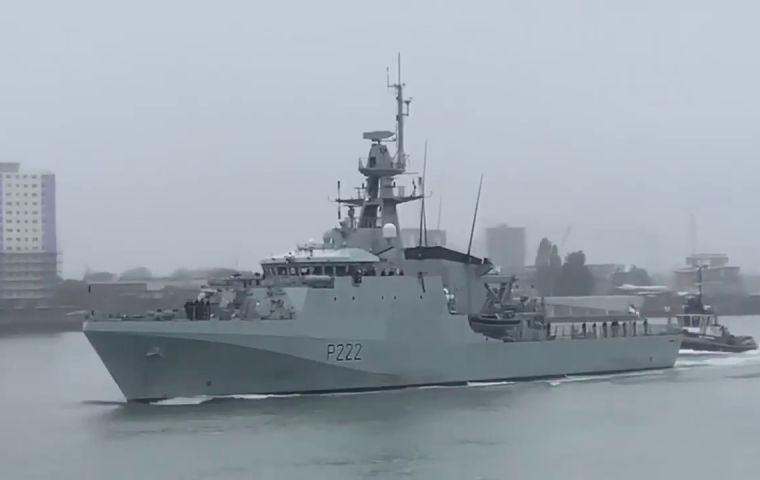 The Royal Navy's HMS Forth has set sail for a long-term deployment into the Falkland Islands. The ship left Portsmouth Naval Base early Friday for the South Atlantic where she will act as the Islands' Protection Vessel, replacing HMS Clyde.
HMS Forth, an Offshore Patrol Vessel, is the first ship of its class to deploy globally in a "forward presence role", the Royal Navy said.
Commanding Officer Bob Laverty said: "Today is a momentous day for the Batch II River Class Program as we deploy HMS Forth to the South Atlantic.
"I am extremely proud of my ship's company for their efforts over the past two years in getting us to this point."
HMS Forth will remain deployed overseas "for a number of years" in support of operations. A further three Batch II Offshore Patrol Vessels are expected to join the Navy's fleet by the end of 2021.
The OPV demanded an investment of £127m and displaces 2,000t. She is 90m-long patrol vessel, is fitted with a 30mm cannon and has a flight deck that can accommodate the navy's Merlin and Wildcat helicopters.
BAE Systems is the contractor for the program to construct the five OPVs. The value of the contract is around £635m.
All five vessels in the second batch of River-class were initially constructed in BAE System's Govan yard. The OPVs then moved to the Scotstoun site for fitting out.
"The delivery of the OPV program is fulfilling a key commitment of the UK Strategic Defense and Security Review 2015 and is part of the government's £178bn plan to provide the UK's armed forces with the best possible equipment."