Malvinas "Virgin of Lujan" image finally arrives to Buenos Aires
Tuesday, November 5th 2019 - 09:50 UTC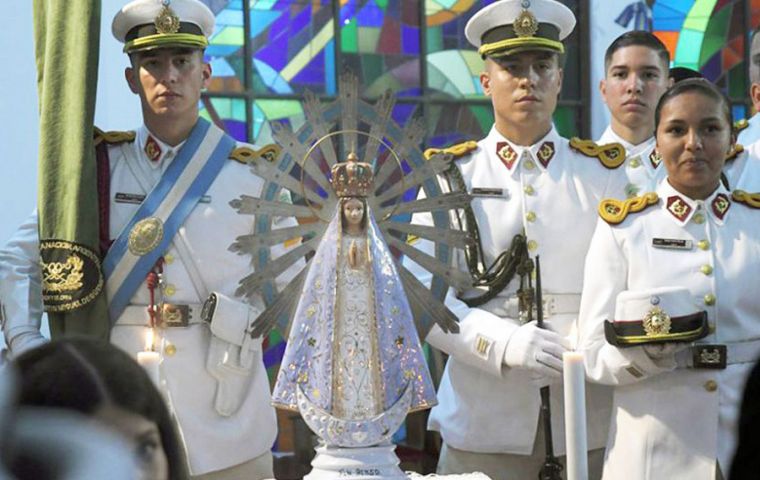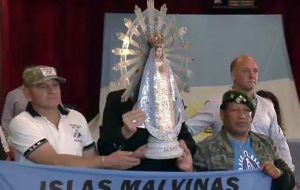 An image of Argentina Patroness, the Virgin of Lujan which was left behind by the Argentine soldiers at the end of the Falklands/Malvinas war, and was recently returned by the United Kingdom and blessed by Pope Francis in the Vatican, finally arrived in Buenos Aires early morning Monday, 37 years after the conflict was over.
The image landed at Buenos Aires Ezeiza airport at 08:00 in the morning and was received with full military and religious honors as well as Malvinas veterans and relatives. The arrival was scheduled for Sunday, but because of mechanical problems in the aircraft it was delayed 24 hours.
Last week in the Vatican the UK military chaplain Monsignor Paul James Mason formally delivered the image to his Argentine counterpart, Bishop Santiago Olivera, before the Pope who blessed the Patroness of Argentina, taken by the soldiers to the Falklands.
The event took place at a ceremony in a public audience at the Vatican square last Wednesday before the Pope who also blessed a replica of the Virgin of Lujan which was delivered to Monsignor Mason. This image will adorn, as the one returned, the St Michael and St George Cathedral in Aldershot, the Bishopric of the UK armed forces.
The recovered image was taken by the Argentine forces a few days after the invasion of the Falklands April 1982, and following the surrender to UK forces, remained at St Mary's parish in Stanley before it was taken to Aldershot.
Contacts from both sides helped to locate the Virgin of Lujan which the Aldershot Bishopric promptly agreed to restitute with a spirit of reconciliation, which was underlined by Bishop Olivera on his arrival to Buenos Aires.
"The Virgin is a symbol of brotherhood among peoples, she is the mother of all. We must begin to live as brothers, even if we think differently. Mary reminds us that we are the children of a common God", said Olivera.
The original plan, if the image had arrived on Sunday, was to have her at the head of Argentine Episcopal conference, followed by a procession and mass at the Quilmes dioceses this Wednesday, and later a peregrination throughout Argentina.