Alberto Fernández actively involved in Bolivian events, Argentine press reports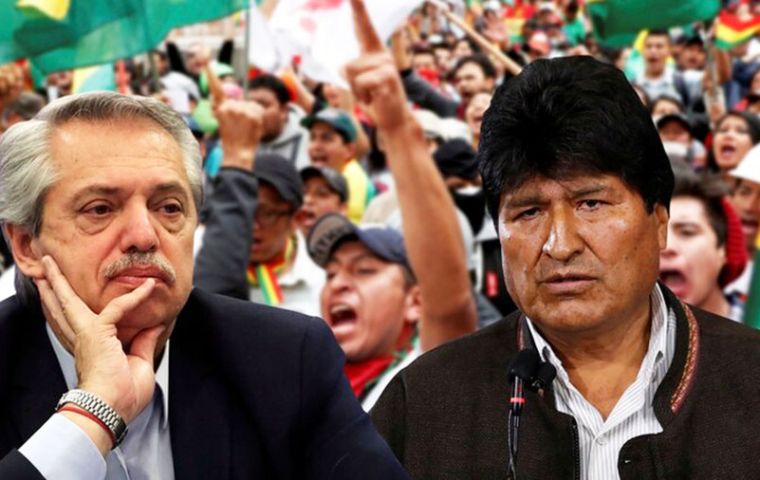 Argentina's President-elect Alberto Fernández was actively involved in ousted Bolivian leader Evo Morales' obtaining political asylum in Mexico, according to press reports.
Fernández, who is due to take office on December 10, spoke in the last 24 hours with the presidents of Mexico, Paraguay, Peru and Chile and also with Lula da Silva as well as with Morales himself.
The conversation with Evo allegedly took place after Morales applied for political asylum before the Mexican administration of Andrés Manuel López Obrador, a move which, according to the Buenos Aires daily Infobae, was brokered by Fernández, who had recently hosted a meeting of the leftwing Puebla Group leaders in the Argentine capital.
The president-elect also spoke with Bolivian ousted Vice-president Álvaro García Linera, who himself had had had a conversation over the weekend with Argentina's Vicepresident-elect and former president Cristina Fernández de Kirchner.
Aberto Fernández, who never hesitated to label the events in Bolivia as a "coup d'etat," also kept incumbent President Mauricio Macri up to date with his negotiations, the press reports point out. He allegedly texted Macri that Evo "wanted to know if the version whereby Argentina had closed its embassy in Bolivia was true, which prevented officials from giving political asylum of that country who sought it" and added that "if you (do) close, you will send people to their death," the Infobae report indicates.
Macri replied that those versions were untrue and that Argentina's diplomatic mission was running as usual.
Sources close to Fernández' entourage quote the president-elect as favouring "elections without proscriptions in Bolivia," to solve the current crisis.
Evo Morales's Mexican Air Forcer airplane made a stop in Asunción, Paraguay, whose president Mario Abdo Benítez was surprisingly willing and cooperative, according to sources close to Fernández quoted by Infobae.