Air links between Falklands and the continent have been operating since 1999
Saturday, November 16th 2019 - 09:56 UTC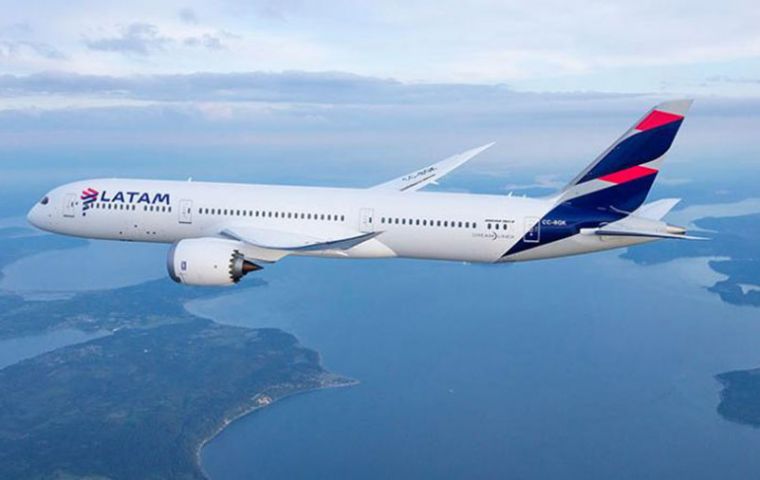 The head of Argentina's Civil Aviation Administration, ANAC, said the office will "collaborate with Justice in all necessary aspects referred to the coming weekly flight between Malvinas Islands and Brazil, with a stopover at Cordoba, once a month".
Tomas Insausti also recalled that a similar flight to the LATAM Brazil link "has been operating for the last twenty years that is since 1999, on a weekly basis also involving LATAM, from Punta Arenas to Malvinas Islands with a monthly call in the Argentine Patagonian city of Rio Gallegos".
Federal Judge Luis Rodriguez ordered different areas from the Argentine government, including the Foreign Affairs and Worship ministry, the cabinet chief office and ANAC to provide information on the accords signed between Argentina and the United Kingdom, following on a case filed on which he must decide whether to suspend the first flight of LATAM between Sao Paulo, Brazil and the Malvinas Islands, scheduled for 20 November.
The probe was ordered in the framework of the case requested by Federal prosecutor Jorge Di Lello which looks into possible irregularities in the handling of the bilateral relation between Argentina and the UK, committed by the current administration of president Mauricio Macri, and on which he has requested the cancelling of the first flight of LATAM scheduled to link Sao Paulo with the Malvinas Islands, because of the sovereignty dispute and given the British occupation of the Islands.
Prosecutor Di Lello has also requested to investigate the different officials, who might have violated Argentina's sovereignty for having participated in the Joint Communiqué of 13 September 2016, agreed between the countries foreign offices.
Solicitor Valeria Carreras who is the plaintiff in the case pointed out that the accords agreed were unconstitutional as well as the so called "Joint Communiqué", because it was named as such to avoid Article 75 of the Constitution which demands it should have been discussed and considered by Congress.