Uruguay's incumbent candidate salutes president elect Lacalle Pou; transition talks begin next Monday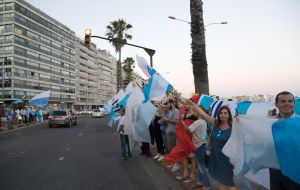 Luis Lacalle Pou of the center-right National Party won Uruguay's presidency after his rival conceded four days after a runoff election. A second vote count by the country's Electoral Court confirmed and widened the neck to neck difference between the president elect and the incumbent candidate
Lacalle Pou, a career politician and son of a former president, was congratulated by his opponent, Daniel Martinez of the ruling Broad Front, ending 15 years in power for the catch all coalition.
"The evolution of the vote count hasn't changed the trend," Martinez wrote on Twitter. "Therefore we salute President-elect Luis Lacalle Pou with whom I'll have a meeting tomorrow (Friday)."
With a difference of just 1.2 percentage points in a preliminary count, Martinez had refused to concede until the Electoral Court finished its final count. The Electoral Court has not yet published its final results.
Last Sunday Lacalle Pou ended some 29.000 votes ahead of Martinez, and with 36.000 provisional ballots to be cleared, which cautioned the Electoral Court to delay any proclamation until a second vote count and ensuring the provisional ballot would not bring any surprise. Despite the fact that the provisional vote tends to reflect the overall picture, which would be more than enough to confirm Lacalle Pou as president elect.
Furthermore late Sunday president Tabare Vazquez contacted Lacalle Pou, presumably to congratulate him but both agreed that until an announcement from the Electoral Court or a concession from Martinez, they had to abstain.
This meant that the militants of the "multicolor coalition" of five parties assembled by Lacalle Pou and ready to celebrate had to go home with no official celebration party that has now been scheduled for this Friday evening.
Last 27 October, on the first round, the Broad Front coalition lost control of the Legislative for the first time since 2005. Lacalle Pou and his National party, together with the Colorado, Open Forum, Independent and For the People parties took control of 17 out of 30 seats in the Senate, and 56 out of 99 members of the Lower House. To which must be added an extra Senate seat, for elected vice president Beatriz Argimon, as president of the General Assembly. She is to become the first elected woman to such a position.
President Vazquez who steps down next March first, has now made official the invitation to Lacalle Pou to Government House to symbolically set off the three month transition period and guide the incoming cabinet ministers.
The result in Uruguay means that in three of the four countries that constitute Mercosur, conservative governments prevail, leaving president-elect, populist Alberto Fernandez, as the odd member when he takes office next month. The bloc is already under strain following comments from president Jair Bolsonaro casting doubt on whether Brazil will even stay in Mercosur and warning Argentina that any policies contrary to more open markets, could speed the departure of South America's largest economy.
Lacalle Pou, who has already named several ministers, including former debt management director Azucena Arbeleche as his finance minister, said he will fill the rest of his Cabinet by mid-December. However Interior (Home), Defense, Education and Social Development, will also be under control of the National party.
Uruguay's economy faces headwinds from a global depressed commodities market, except for meats, and from its two much larger neighbors: Argentina's dire economic situation is expected to continue before it improves, and Brazil still needs a sturdy take off to convince investors.
Cutting a public sector deficit of 5% of GDP to protect Uruguay's access to cheap credit is a key part of Lacalle Pou's policy program, which includes potentially contentious social security and public education reforms. His advisers have promised to reduce wasteful spending by US$ 900 million in 2020 alone.
The Broad Front remains the country's largest political party with the ability to draw thousands of supporters onto the streets. Lacalle Pou will also have to reach an understanding with militant trade unions organized under the umbrella of the powerful PIT-CNT labor confederation.
Broad Front party chairman Javier Miranda told reporters that his party will be a "responsible opposition" that will defend the achievements of its 15 years in power. The party would also accept Lacalle Pou's offer to place its representatives on the boards of state-run companies and other government entities, he added.
In effect pension reform will require the Broad Front's support to give the process political legitimacy, and according to National party sources the new administration would not imitate the Broad Front government's unwillingness to work with the opposition, "we aren't going to pay them back in the same currency they paid us".
Nevertheless Uruguay stands out as an island of stability and rational politics with the strongest rating support for democracy in a continent ravaged by protests and social unrest.