Protection of Falklands' people democratic rights ensured in Conservative manifesto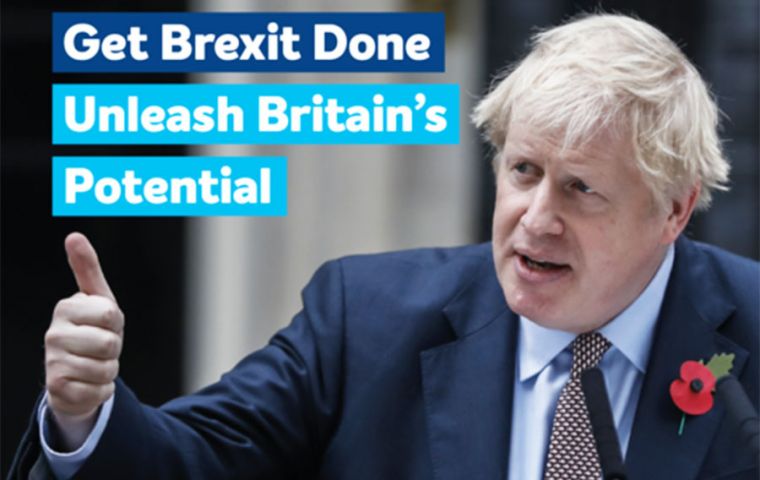 The Conservative and Unionist party manifesto for the coming 12 December election, "Get Brexit Done Unleash Britain's Potential", in one of its chapters includes a special mention to the democratic rights and the protection of the Falkland Islands, Gibraltar and other Overseas Territories.
In the manifesto chapter "We Will Strengthen Britain In The World", it states that as Conservatives, "we are immensely proud of the UK's history and its standing in the world. Unlike those currently leading the Labour Party, we view our country as a force for good. The strength of the Armed Forces, our alliances with like-minded democracies and our willingness to act are all reasons for the UK to hold its head high. So too is our work in promoting international development and fighting climate change – both issues on which the Conservative Party and Conservative Governments have driven the agenda forward".
Likewise, "The security of our nation comes first. We will protect the British people at home and abroad, and also ensure that the democratic rights of people in Gibraltar, the Falklands and all our overseas territories are protected. We will continue to exceed the NATO target of spending 2% of GDP on defense and increase the budget by at least 0.5% above inflation every year of the new Parliament.
We will modernize the equipment and improve the capability of our world-class Armed Forces and intelligence agencies. We will invest in training and equipping our Armed Forces, and constantly champion their exemplary contribution to our security and our country.
We will maintain our Trident nuclear deterrent, which guarantees our security. We will adapt to new threats, investing more in cybersecurity and setting up the UK's first Space Command. We will stand against terrorism and extremism around the world.
We will support the UK's world-class defense industry by investing in ambitious global programs, including building the new Type 31 frigates in British shipyards such as Rosyth and a new generation of armored vehicles, made in Britain"