New Falklands Books: The Falkland Islands Journal 2019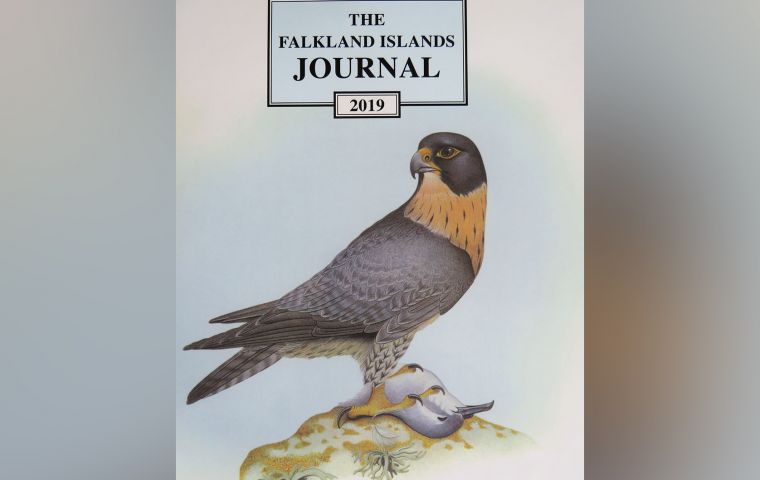 Ian Strange, who died in September 2018 aged 84, was a naturalist, accomplished wildlife artist and photographer who championed wildlife conservation in the Falkland Islands from the early 1960s.
In the latest edition of the Falkland Islands Journal an appreciation of his life has been created by Jim McAdam, Stephen Palmer and Maria Strange.
The authors explained: "Reflecting the quality of his artwork and widespread knowledge of the Falklands, he was a Crown Agents stamp illustrator and designer and a prolific author of books and articles, including some scientific papers, on the natural history of the Islands."
The Falkland Islands Journal 2019, which can be purchased from the Falkland Islands Museum and National Trust, is as always, a fascinating publication. As well as the comprehensive piece on Mr Strange, there are also the marvellously informative Alastair Cameron History Prizewinners works from 2018.
All written by Falkland Islands Community School students they offer remarkable insights into the history of a variety of subjects.
In the Oil Industry in the Falkland Islands by Danielle Harris she interviews those guiding the industry as well as those involved in the hospitality aspect of the industry.
She reports Shorty's Diner and Motel owner Marlene Short saying that in the beginning the Falklands was not geared up for exploration however, "gradually over the years, the build up to and the duration of the two major drilling campaigns businesses have evolved and expanded to cope."
She adds though that it should be monitored correctly and lead to benefits for everyone and not just the individuals.
Well worth a read is Kaci Goodwin's FIGAS Pilots' Memories with plenty of lively and fascinating stories straight from the horses' mouths.
The pilots describe amusing and more serious incidents involving interfering wildlife getting in the way, as well as the occasional airstrip marker, along with stories of their favourite and noisy young passengers.
Troyd Bowles explains how once when he carried a member of the Royal Family he managed to achieve one of his 'firmer' landings at San Carlos.
It was a quite a bump he said, "and I'm sure it was the most red my face has ever been. I am suspicious there is a warning somewhere in Buckingham Palace of pilots to avoid, with my face printed on it."
Also included are George Lee's Port Howard over 152 years, Held Hostage in the 1982 War by Bragnae Nannig-Wallace, The History of Gun Hill Shanty by Laura Blake, The History of Fox Bay West by Abigail Marsh, Links between the Falkland Islands and Uruguay by Juan Bautista, The Jaffray Pipers of Lafonia by John Rimicans McLeod, The History of the Falkland Islands Motorcycle Association by Regan Newman, and Human Activity and Research in the South Sandwich Islands over the Years by Hamish McKee.
There are also a number of other history and natural history articles well worthy of a peruse .
The Falkland Islands Journal
2019. ISSN 0256-1824