Anniversary of the Battle of the Falkland Islands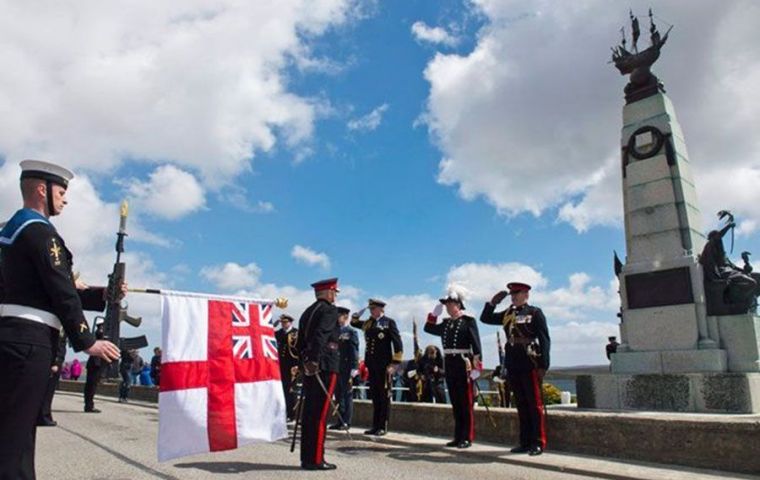 The Falkland Islands commemorates on Sunday 8th December the great Battle of the Falklands, 105 years ago, which ended with a resounding victory for the Royal Navy over the Kaiser's fleet.
On 8th December 1914, the German Squadron of two armored cruises and three light cruisers under Admiral Maximilian von Spee was sunk by a Royal Navy squadron commanded by Rear Admiral Doveton Sturdee. British losses were minimum but 2,260 German sailors lost their lives
The ceremony in Stanley will be as follows: at about 10.45 am a detachment of the Falkland Islands Defense Force and the Associations will march to the Battle Memorial. At 10.58am Governor Nigel Phillips will arrive at the Battle Memorial and will inspect the Parade. Youth Groups will be in attendance. After prayers the Governor will lay a wreath, followed by MLA Barry Elsby, the Chief of Staff British Forces South Atlantic Islands, and representatives of the Royal British Legion and Associations.
Members of the public wishing to attend the ceremony are asked to arrive no later than 10.50 am.
After the ceremony there will be a march past. The Governor, MLA Roger Edwards and the Chief of Staff, will take the Salute from a dais at the entrance gates to Government House lawns. It is appropriate for decorations and medals to be worn on this occasion.
Before Liberation Day 14 June 1982, which marked the end of the Argentine invasion of the Falklands, the main date in the Islands' calendar was 8 December, Battle Day. (PN)
See last news: Discovery of WW1 German Battlecruiser SMS Scharnhorst in Falklands waters
More: Suddenly out of the deep sea gloom emerged the mighty Scharnhorst with her great guns poking in every direction
An historical note: Battles od Coronel (1 November 1914) & The Falkland Islands (8 December 1914)