Charges against Evo Morales filed before ICC, law firm announces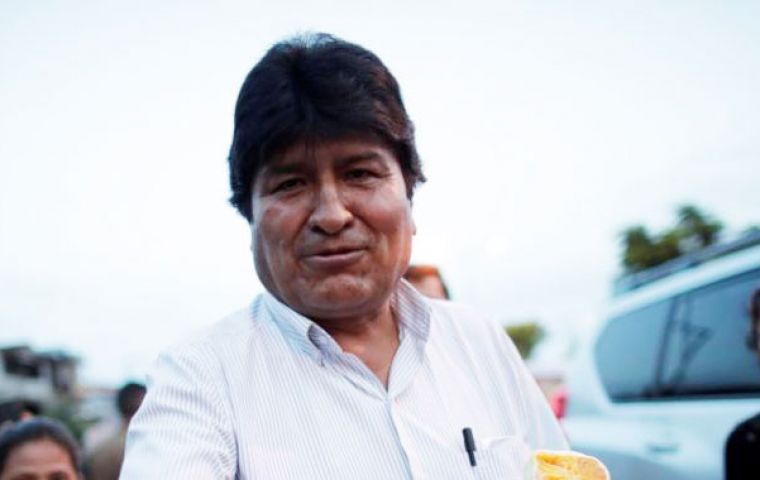 Charges for crimes against humanity against former Bolivian President Evo Morales have been filed by November 30 last before The International Criminal Court (ICC) at The Hague, a Paris-based law firm confirmed on Tuesday.
"The Prosecutor of the Criminal Court of The Hague received the complaint against Evo Morales and former ministers for alleged crimes against humanity. Subsidiary mechanism can be activated," the law firm of Alfonso M. Dorado posted on Twitter.
Morales, who fled to now Mexico and is now roving the world in search for a place to settle down, is to account for actions allegedly committed by his supporters during the civilian and military uprising which led to his resignation, specifically a "generalised attack, coordinated and organized between October 27 and November 20," according to reports.
These social conflicts erupted from allegations of electoral fraud in the annulled presidential elections of October 20.
According to the Bolivian Office of the Ombudsman, the scuffles resulted in more than thirty deaths and dozens injured, after the fierce repression by forces loyal to Morales.
The ICC is an independent court with jurisdiction to prosecute individuals accused of genocide, crimes against humanity and war crimes.
The former Bolivian ruler and his entourage are accused before the ICC of "selective killings with free-shooters, ambushes, rapes and sexual assaults, hostage-taking, physical and psychological torture, state terrorism, interruption of access to food as well as water to certain cities."
In a note addressed to the ICC prosecutor and published on Twitter by the Dorado firm, former Vicepresident Alvaro García Linera and Ministers Juan Ramón Quintana (Presidency), Javier Zabaleta (Defense) and Wilma Alanoca (Cultures) are to be held accountable together with La Paz councilman Gustavo Torrico.
The former president is under probe for an alleged recording in which a voice believed to be that of Morales calls for fencing the cities and cutting off the supply of fuel and food.
Morales, who ruled the country for almost 14 years, went to Mexico along with García Linera, but is currently in Cuba. Recent press reports have hinted Morales is conducting negotiations to move to Argentina, where the situation seems to be more favourable for him since President Alberto Fernández took office last Tuesday.