Evo Morales and entourage in Buenos Aires to stay as a political refugees
Thursday, December 12th 2019 - 18:17 UTC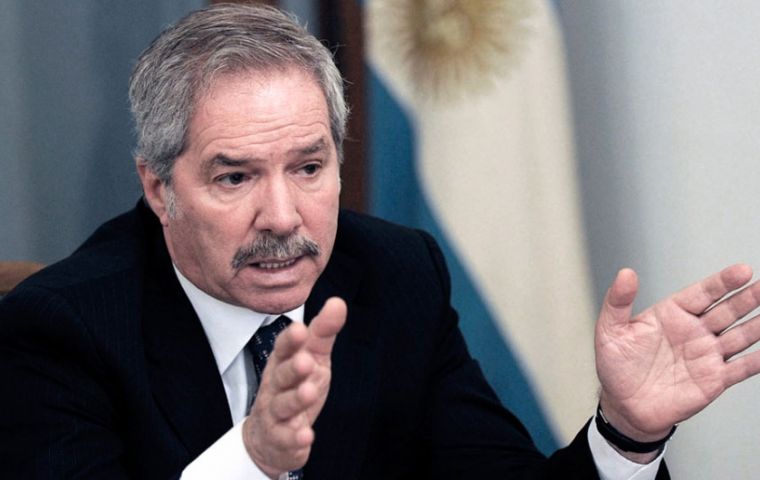 Former Bolivian President Evo Morales Thursday landed at Buenos Aires' Ezeiza international airport amid tight security and top secrecy to settle in the country where he has been granted political asylum, Foreign Minister Felipe Sola told reporters. "He feels better here than in Mexico," Solá added. "He is here to stay," he went on.
Morales resigned from the presidency of Bolivia after military and civilian unrest following allegations of electoral fraud.
Argentine Interior Minister Eduardo de Pedro is in charge of finalising the details to confirm Morales' refugee status which will not be a carte blanche. "We want Evo's commitment not to make any political statements [while] in Argentina. It is a condition that we request," Solá underlined.
The Argentine government of President Alberto Fernández does not recognise the administration of Jeanine Áñez, who was sworn in as interim president of Bolivia after Morales' resignation, pending general elections. "For us in Bolivia there is a de facto government, I would not use any other adjective," Solá stressed.
Morales arrived in Argentina together with former Vicepresident Álvaro García Linera and other lower-ranked officials. Morales' children have been in Argentina for three weeks.
Evo's arrival prompted statements from US Undersecretary for Hemispheric Affairs Michael Kozak, who said the former Bolivian president left office due to "serious irregularities" in the October presidential elections and based his claims on the final report by the Organization of American States (OAS), which determined that was the case, coupled with a "painful manipulation" of electoral data.
Kozak met Wednesday with Fernández, at the Casa Rosada. Also present at the meeting were Solá, Strategic Affairs Secretary Gustavo Béliz and Argentina's next ambassador in Washington Jorge Argüello.
The meeting drew particular attention after the head of the Western Hemisphere branch at the US National Security Council, Mauricio Claver-Carone, decided not to attend Fernández' inauguration due to the presence of a Venezuelan dignatary from the Nicolás Maduro regime.