Falklands provides sea and air support for the search of missing Chilean aircraft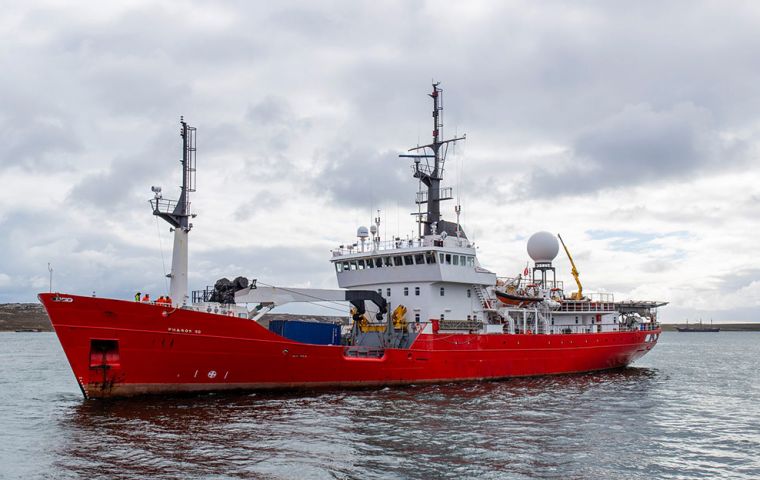 Falkland Islands based PHAROS SG, on regular deployment as a South Georgia and South Sandwich Islands fishery patrol vessel, returned on Tuesday morning to Stanley Harbour, after assisting in the search for wreckage and debris from the Chilean C130 aircraft that went missing on Monday 09 December.
The Government of South Georgia & the South Sandwich Islands quickly offered to support the search and MV PHAROS SG was deployed in the international search and recovery effort, where she utilised her deployable sea boats to survey the area and collect debris for analysis.
Likewise HMS Scott, one of the Royal Navy's most advanced ocean survey vessels, is operating in the Drake Passage to support the international search efforts for the Chilean C130.
Using her complement of sea boats to collect debris, and her deep water sonar to search for wreckage beneath the waves, HMS Scott has been working tirelessly through the night to assist in the search.
The British liaison team remains embedded in Punta Arenas, consisting of Search and Rescue experts and an interpreter from the Falkland Islands Government, coordinating all components of the British response, including HMS Scott.
Meanwhile the RAF A400M Atlas aircraft, normally based at Mount Pleasant Complex, in the Falklands, has undertaken search patrols, helping to locate the wreckage of the Chilean C130 in the Drake Passage.
With a crew of specially trained personnel, the A400M performs in the over-water search role, flying for approximately 7 hours. Alongside the aircraft, a liaison party, consisting of BFSAI Naval, Army and Air Force Personnel and Falkland Islands Government staff are assisting the Chilean military command at Punta Arenas.