Mendoza province up in arms to defend its water resources from the mining industry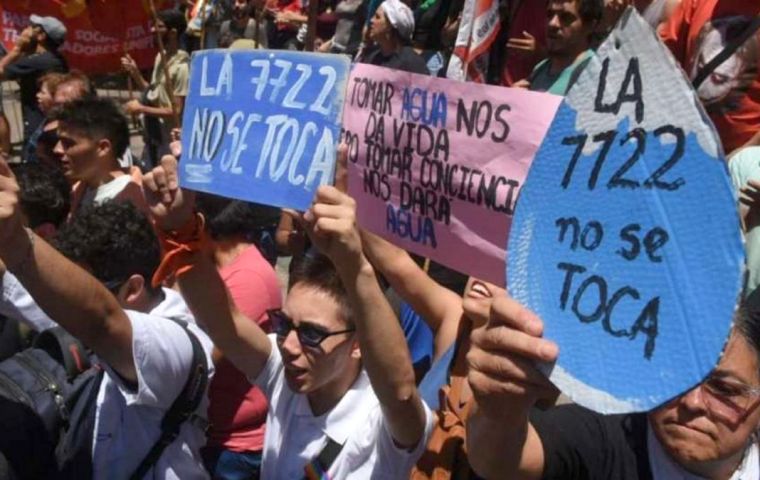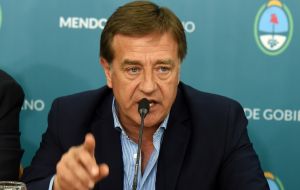 The government of the wine-producing province of Mendoza, suspended the rule of the mining law 7.722 that had given the green light for chemicals such as cyanide and sulfuric acid to be used by the industry, but which threaten the water resources of that territory.
Since 2007 Mendoza has a water protection law that has successfully kept water-intensive mining projects out of the province. However responding to the mining industry interests, governor Rodolfo Suárez overturned the law 7722.
But Suárez went further and announced 19 uranium, cooper, gold, lead, silver, zinc and iron mining projects. He argued that the projects will create tens of thousands of new jobs, and promised to use royalties for new irrigation projects.
However environmentalists warned that the mega-projects could threaten water sources that farmers and wine-growers depend on, in a semi-arid province which is already going through the worst drought in its history.
Protests started peacefully outside the governor's office with people chanting "Don't touch the water!"
"The modification of law 7722 will permit the use of sulfuric acid, cyanide and other toxic chemicals in the development of mega mining projects, which will generate the contamination of the province's water," Greenpeace Argentina said in a statement.
After several days of protests, some which ended in rioting and destruction of property, the Governor decided to suspend the bill and open a round of dialogue with the different groups involved including the Church. Environmental groups stated that the law violated general law in Argentina as well as environmental preservation.
Governor Suárez said that the law was suspended and dialogue with protesters opened, "including archbishops, universities, labor unions, political parties, international organizations". Suarez added he would participate personally in the dialogue.
Argentina's newly inaugurated president Alberto Fernandez, a moderate politician of the left-leaning populist Peronist party, has spoken out in favor of mining projects that he says are vital for Argentina's economic recovery.
"Mining is a primordial activity," Argentina's new president said at a lunch with business leaders last week.
Mendoza is the largest wine-producing region in Latin America, is a semi-arid desert that gets the water for its vineyards from the snowy caps of the nearby Andes mountain range, already diminishing from the stress of global warming.
The province, which produces 80% of Argentina's wine, is also a thriving tourism destination for visitors from all over the world who arrive to explore its more than 1,000 wineries along the fabled Argentina Wine Route.
The people of Mendoza have a long history of environmental awareness. Blasting governor Suárez and his intent to overturn the 7722 bill, Laura Vidal from Greenpeace Argentina said "it is ridiculous that, during the worst drought on record, the province has decided to favor the polluting mining industry, instead of protecting the water resources it has".