US not pleased with Alberto Fernandez foreign policy outlook
Monday, January 6th 2020 - 09:29 UTC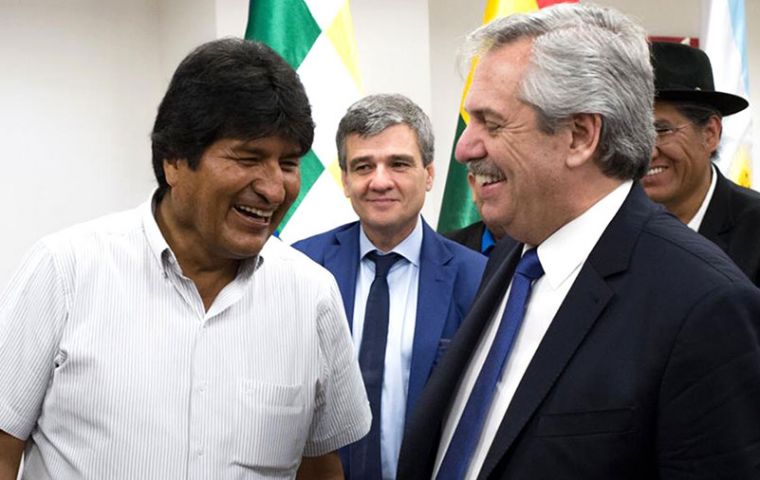 The US government has warned Argentine president Alberto Fernandez that his first actions in foreign policy could endanger both IMF support as well as US investments in the country's energy sector.
According to Bloomberg which reports on facts, financial news and how they can be interconnected, "a top official from the Trump administration" said that "having extended political asylum to the former Bolivian president Evo Morales and involvement with the regime of Nicolas Maduro in Venezuela could be crossing a red line, and this "could cost Argentina the support of the IMF and investments in the development of Vaca Muerta shale deposits.
The Bloomberg piece also mentions that members of the Trump administration expressed their concerns to president Alberto Fernandez during recent meetings held in Buenos Aires, Mexico City and Washington.
Offering refuge to Morales has disappointed US officials, as have Fernandez leaning towards other similar leaders such as president Miguel Díaz-Canel in Cuba, Maduro in Venezuela and the former Ecuadorean leader, Rafael Correa, "does not help."
"Frustration" escalated last month when Mauricio Claver-Carone, a close advisor of Trump flew to Buenos Aires to attend president Alberto Fernandez swearing in ceremony, but decided to leave after finding out a Venezuelan official would also attend.
United States has a significant influence in the IMF Board of Directors since it is the major shareholder and was decisive in granting former president Mauricio Macri's administration the 56 billion dollars loan. Besides, Bolivia with Morales, Cuba and Venezuela are close allies of Iran.