Falklands names new Director of Development and Commercial Services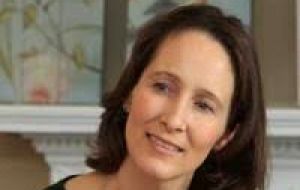 The Falkland Islands Government has announced the appointment of Catherine Silva Donayre as the new Director of Development and Commercial Services when the current Director, Ian Robertson, leaves in June 2020.
Catherine Silva Donayre is currently Deputy Director of Development & Commercial Services, and over the past year in this role has been closely involved in management of the directorate, the successful launch of the new commercial flight route between Falkland Islands and Brazil, and progressing procurement for a new port. She has extensive management experience in the UK public and private sectors.
Commenting on the announcement, Catherine said: "I am very pleased to have been offered the post. This is an exciting time for the Falkland Islands, with an ambitious capital program that will support ongoing economic growth and improvements to national infrastructure. I look forward to the challenges of the new role and contributing to the delivery of the objectives of the Islands Plan and the Falkland Islands Government."
The Chief Executive of FIG, Barry Rowland, welcomed the appointment: "I am looking forward to working with Catherine in her new role, and am sure her wealth of experience across the public and private sectors will continue to be of great benefit to FIG in delivery of our capital program and public services."
The role of Director of Development & Commercial Services includes responsibility for Program Management of the Falkland Islands Government Capital Program.
Iain Robertson, the current Director of Development & Commercial Services, commented: "I am proud to have served the Falkland Islands Government and thoroughly enjoyed living and working in the Falkland Islands."
"I am delighted that Catherine will be succeeding me in the role as the new Director; to continue the development of the new port, capitalize on the investments and developments implemented at FIGAS, build on the investments committed in the telecommunications arena and further develop commercial aviation services, as well as directing a diverse portfolio of projects and critical services with an excellent and committed team. I wish Catherine every success at this exciting time in the Islands history".