Fernandez insists Argentina needs more time to honor its debt with IMF
Friday, February 14th 2020 - 21:08 UTC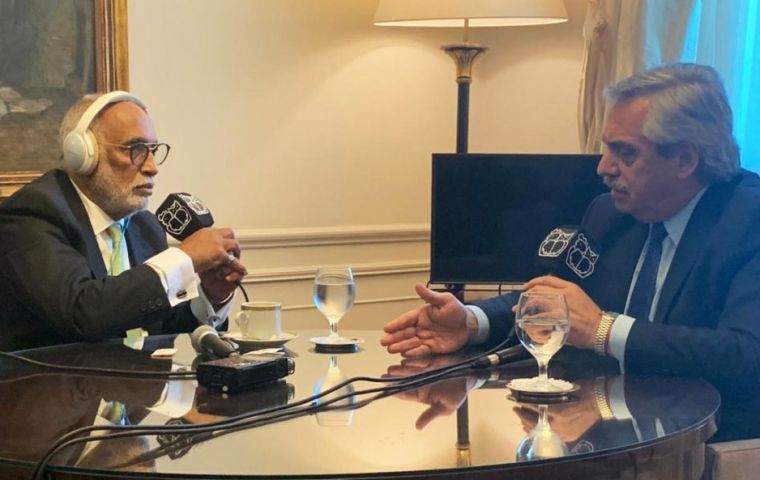 Argentine president Alberto Fernandez said that the country "needs more time" to honor its debt with the IMF and underlined he would like "a commitment of the Fund with Argentina". He also welcomed what he described as a "common sense dialogue with the IMF mission" currently in Buenos Aires for a review of the country's finances and economic prospects.
"I wish, and I think we're close, that we can have a common sense dialogue with the Fund to see how we can reach an accord" Fernandez was quoted in a local radio station. He added that Argentina is not "in bad relations with the IMF", and considered vice-president Cristina Fernandez de Kirchner recent comments referred to the IMF as "very much pertinent".
"Argentina is not going through a good moment", Fernandez added, on the contrary "we are in a very difficult situation because of the economy". Each place "we went in the administration we found the expected problems, but also others which did not figure".
Finally when asked about a possible bilateral meeting with Brazil's Jair Bolsonaro, Fernandez said he was not sure he could make it to Montevideo on March first since that very same day the Argentine congress opens its ordinary sessions and he has to make a sort of state of the country speech.
"I don't know if I can make it, because of my presence in Congress, but I will attempt to travel, and if not I will propose president Bolsonaro to meet him the following day", Fernandez said.
On March first Uruguay's elected president takes office and most Latin American presidents will be attending the ceremony in Montevideo. As is tradition the presidents of Uruguay's powerful neighbors attend the ceremony, and it has been agreed it would be an excellent excuse for both leaders, Fernandez and Bolsonaro, to meet, leaving behind some acrimonious comments.