Bolsonaro insists in a good relation with Argentina, and insists in meeting with Alberto Fernandez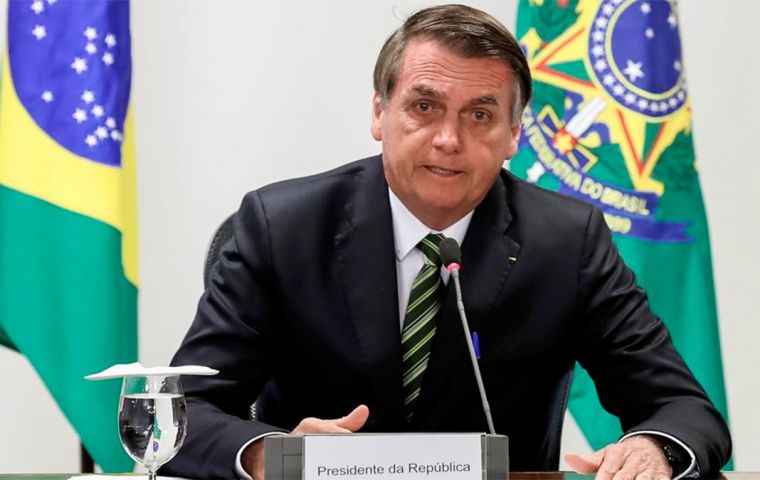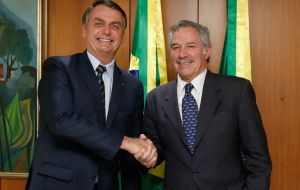 Brazilian president Jair Bolsonaro said on Monday he wants a "good relationship" with Argentina and it is up to the foreign ministers of both countries to agree on a meeting with his peer Alberto Fernandez, since the announced summit scheduled for March first in Montevideo, had fallen through.
"A new date will depend on the foreign ministers" Bolsonaro said when asked by journalists about the meeting in Montevideo on occasion of the taking office ceremony of president elect Luis Lacalle Pou.
The meeting had been originally proposed by the Brazilian president when he received at the Planalto Palace an Argentine delegation of top officials including foreign minister Felipe Solá, Strategic Affairs minister Gustavo Béliz and the appointed ambassador in Brasilia, Daniel Scioli.
However on that day, March first, the Argentine president must attend Congress and make a speech since it is the official opening of a new period of ordinary sessions.
"On that day, March first there is a significant event in Argentina, the opening of the legislative year and it will be hard for president Fernandez to travel to Montevideo. I let him know that if he confirms the trip, I would wait in Uruguay, but now it seems he does not have enough time for the full agenda", Bolsonaro added.
"What we want from and with Argentina is Mercosur, a good relation, but having democracy and freedom above all", underlined the Brazilian president.
The visit last week of the Argentine delegation headed by foreign minister Solá effectively ended a period of ideological exchanges between the two leaders, which took off on 10 December when Fernandez became Argentine president. Bolsonaro supported his predecessor, conservative Mauricio Macri.