UN: A third of Venezuelans with no access to minimum nutrition requirements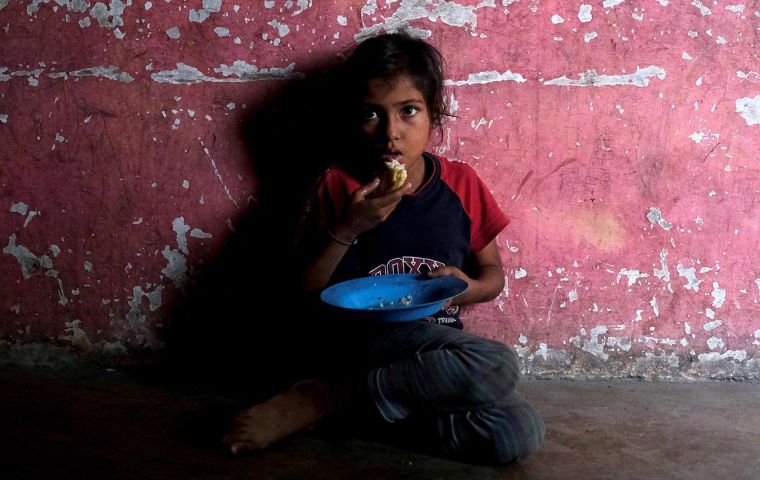 About 9.3 million Venezuelans don't have access to enough food to meet minimum nutrition requirements, according to a study from the United Nations.
One-third of Venezuelans were found to be moderately or severely food insecure by researchers from the World Food Program, a project established by the U.N. The World Food Program describes food insecurity as the inability to meet basic dietary needs.
The study, which consisted of surveys from 8,375 Venezuelans, showed that a large percentage of people were surviving on just potatoes or beans. Even one in five residents in the most prosperous areas of Venezuela was unable to meet basic nutritional needs.
Nearly three-quarters of respondents said they have used "food-related coping strategies" such as rationing meals or limiting dinners to just one cheap food. One-third of respondents said they have accepted food as payment at work rather than receiving cash. One in 5 admitted to selling personal belongings to pay for food.
Carolina Fernandez, a Venezuelan rights advocate, warned that Venezuelan children may face lasting growth challenges due to malnutrition. She added, "We're talking about children who are going to have long-term problems because they're not eating adequately."
Venezuela has struggled through economic and political catastrophes. Hyperinflation left the Venezuelan Bolivar nearly worthless, and the country's leader, Nicolas Maduro, has refused to concede power in the face of international pressure.
The U.N. was invited to conduct the food insecurity study by Maduro, who refused to allow researchers into the country in years prior.
The United States has recognized Juan Guaido as interim president. He was one of President Trump's guests to the State of the Union address earlier this month.